US and China agree to a top level meeting next Friday to ease bitter disputes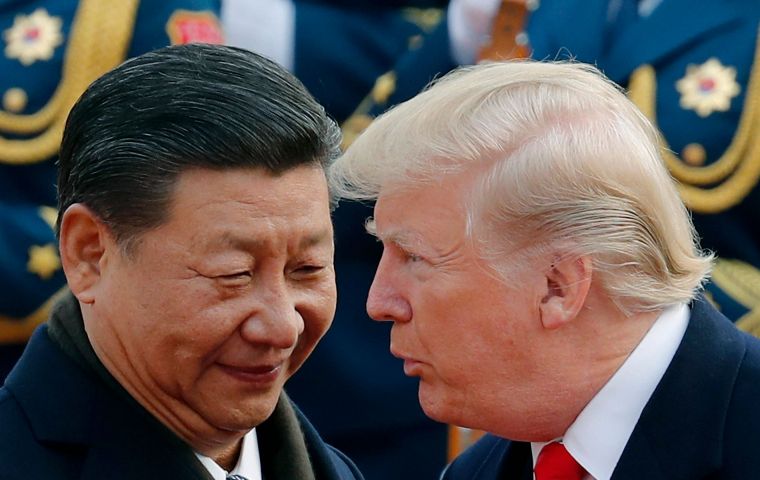 The United States and China will hold a delayed top-level security dialogue on Friday, the latest sign of a thaw in relations, as China's vice president said Beijing was willing to talk with Washington to resolve their bitter trade dispute.
The resumption of high-level dialogue, marked by a phone call last week between Presidents Donald Trump and Xi Jinping, comes ahead of an expected meeting between the two at the G20 summit in Argentina starting in late November. It follows months of recriminations spanning trade, U.S. accusations of Chinese political interference, the disputed South China Sea and self-ruled Taiwan.
China and the United States have both described last week's telephone call between Xi and Trump as positive. Trump predicted he'd be able to make a deal with China on trade.
In a concrete sign of the unfreezing, the U.S. State Department said Secretary of State Mike Pompeo, Defense Secretary Jim Mattis, Chinese politburo member Yang Jiechi and Defense Minister Wei Fenghe will take part in diplomatic and security talks later this week in Washington.
China said last month the two sides had initially agreed "in principle" to hold the second round of diplomatic security talks in October but they were postponed at Washington's request amid rising tensions over trade, Taiwan and the South China Sea.
Mattis had been due to hold talks with Wei in Beijing in October, but those plans were upended after Washington imposed sanctions on China's People's Liberation Army for buying weapons from Russia. Mattis did meet Wei in Singapore on Oct. 18 and told him that the world's two largest economies needed to deepen high-level ties to reduce the risk of conflict.
Speaking in Singapore on Tuesday, Chinese Vice President Wang Qishan, who is close to Xi, reiterated China's readiness to hold discussions and work with the United States to resolve trade disputes as the world's two largest economies stand to lose from confrontation.
"Both China and the U.S. would love to see greater trade and economic cooperation," Wang told the Bloomberg New Economy Forum in Singapore.
"The Chinese side is ready to have discussions with the U.S. on issues of mutual concern and work for a solution on trade acceptable to both sides," he said. "The world today faces many major problems that require close co-operation between China and the United States," Wang said.
Jim Sutter, CEO of the U.S. Soybean Export Council, told Reuters on the sidelines of the Shanghai import fair that both countries understood the need to maintain their relationship. "I think both sides are optimistic ... more optimistic after the call last week that took place, that some kind of a solution can be reached," he said.