Macri vows not to give up on ARA San Juan but knows words can't heal pain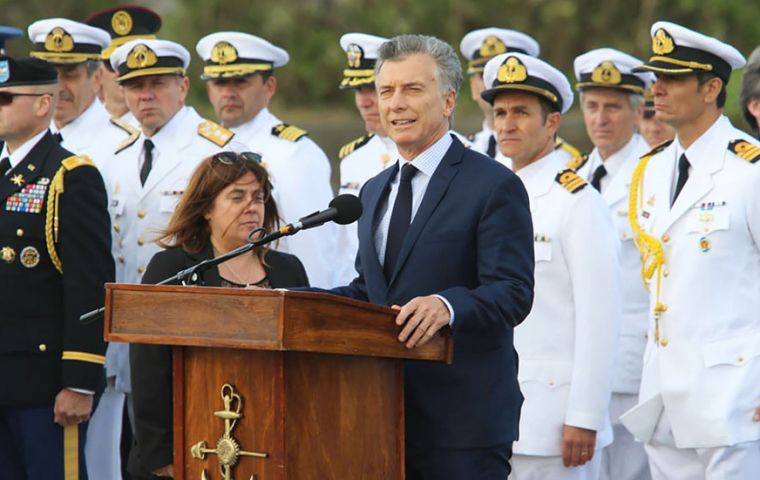 Argentine President Mauricio Macri that nothing he would "say could take away the pain" off relatives and friends of the 44 crewmembers of the ARA San Juan submarine which was last heard of on November 15, 2017.
Macri attended Thursday a ceremony at the Mar del Plata Navy base which used to be home port for the San Juan. During his speech, he praised the "courage and professionalism of each of the 44 crew" members as he pledged to continue with the search until the submarine is found. "Let's not give up," he said.
Navy Chief of Staff Viceadmiral José Luis Villan also delivered a speech in which he acknowledged to have put into effect specific instructions from Defense Minister Oscar Aguad whereby all Navy vessels sailing in the vicinity of where the San Juan went missing are to perform a sonar search.
The last report from the San Juan was tracked down to a spot about 432 miles off the St. George's Gulf coast, Southeast of the Peninsula Valdés, Chubut.
The president insisted his government had an "absolutely non-negotiable commitment to the truth." But the relatives and friends of the doomed sailors were more than skeptical.
"We don't want to be told anymore lies in our faces," one of them was quoted as saying.
"Not a minutes' silence, no trumpets and no reference to their deaths!," cried another.
They were also disappointed that the US company Ocean Infinity has made a stop in the search for the San Juan, even though it promised to bring the Seabed Constructor ship back to the area in February.