Appearance of ARA San Juan: Royal Navy crew paid their respects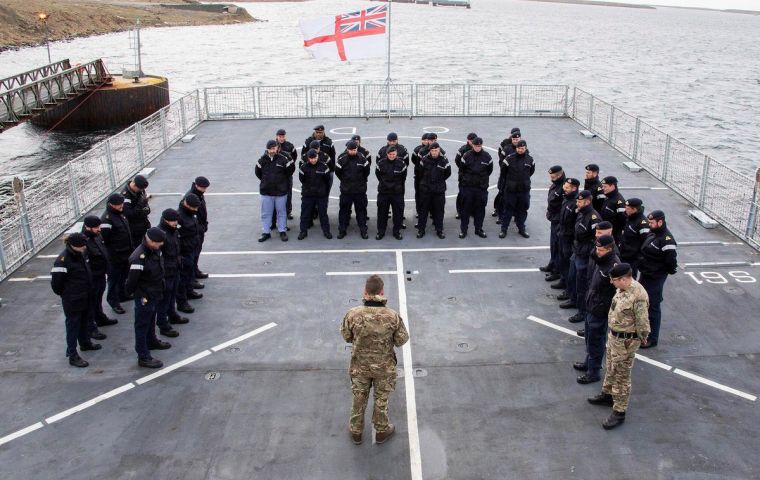 A year after the disappearance of the Argentine Navy's submarine ARA San Juan, the crew of HMS Clyde, one of the British ships that participated in the search operation, yesterday showed their respects in an act of remembrance from the Falkland Islands. The act was given hours before the Ministry of Defense and the Argentine Navy confirmed that the Norwegian ship Seabed Constructor made the discovery.
The Argentine tragedy of the submarine ARA San Juan has approached the Argentine and British military for the first time since the Falklands conflict. The ships of the British Navy HMS Clyde and HMS Protector and a Hercules C-130 were actively involved in the search for the submarine and survivors.
The cooperation of the United Kingdom with Argentina in the search resulted in the fact that, during the initial stage, a British Royal Air Force plane landed for the first time in decades in Argentine territory with sophisticated equipment and trained rescue teams.
The discovery made by the American company Ocean Infinity, about to suspend its search, occurred after found a suspicious object on the seabed from one of its probes at 800 meters deep and confirm their identity with an ROV (remote observation vehicle) 500 kilometers from the city of Comodoro Rivadavia.
HMS Protector has a mull-beam echo sounder on her hull that can scan the depths for sign of life. However, neither this nor any of the other vessels from eight countries involved in the search were successful during the operation so far.
Sources from the Argentine defense ministry believe it will be very difficult to remove the ship from the area, according to the Clarín newspaper. However, a hypothetical rescue operation would begin as soon as the first technical reports of the discovery are made, taking the city of Chubut as an operational base.