CFK: Macri merely a manager of policies imposed from abroad
Tuesday, November 20th 2018 - 07:38 UTC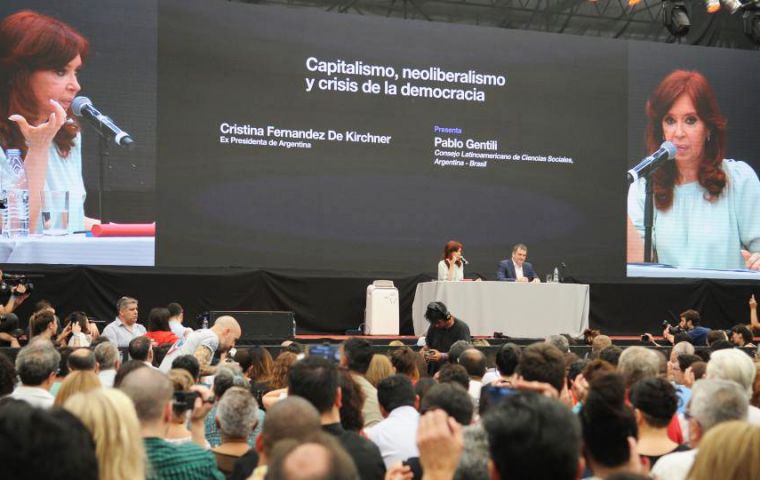 Former Argentine President Cristina Fernández Kirchner (CFK) Monday criticized the administration of her successor Mauricio Macri in a speech that lasted over an hour at the anti-G20 summit in Buenos Aires, saying - among other things - that by taking a loan from the International Monetary Fund (IMF) the current president merely manages what is dictated to him.
CFK and former Brazilian President Dilma Roussef were the main speakers during the opening day of the First World Forum of Critical Thinking, also known as the "counter-summit" to next week's meeting of the G20 leaders.
Organized by the Latin American Council of Social Sciences (Clacso), the forum takes place in Buenos Aires until next Friday.
"We are in a society where, through electronic media, they study and segment you as if you were a guinea pig, telling you what you want to hear." said CFK, who underlined that the belief that money collected from those who pay income tax goes to financing the "lazy ones" on state welfare has colonized the minds of the Cambiemos voters anf deepened the crack within Argentine society.
She added that with the return to "the IMF with a loan of 57,700 million (US) dollars," Argentina has once again become "mere managers of policies that are imposed from abroad, in addition to having to pay back the money."
Fernández also underscored the differences between her administration and that of Macri, saying that "few times in history has there been the possibility to analyze two models of government within such a little time space."
She added that "20 days from now, on December 9, exactly 3 years will have passed since neoliberalism has settled in our country. In the first 10 months of 2015, it was 19.8%. Three years later, it is 38.2%. This government has doubled the inflation they had claimed was going to be the easiest problem to solve."
She argued that during her consecutive presidencies "people avoided going to the supermarket on weekends because of the [long] queues" while "today, supermarkets are literally empty."
But her crticism did nit stop at Macri and went out to the "modern Hitlers who accuse immigrants of being responsible for a country without jobs."
She explained that Hitler came to power in Germany because of the humiliating and unfulfillable conditions imposed by the Allies in the Treaty of Versailles, which led to galloping inflation and unemployment for which the Jews were blamed, explsined CFK.
The anti-G20 summit will feature Tuesday Bolivian vice president Álvaro García Linera, Grandmothers of Plaza de Mayo president Estela de Carlotto and the Mothers of Plaza de Mayo (Founding Line) Taty Almeida.
Two former presidents are to take center stage as well Tuesday: Colombia's Ernesto Samper will address the issue "Can democracy survive such inequality?" and the Uruguayan José "Pepe" Mujica will explain his view on "Latin America: fear, hope, utopia."