Conmebol rules River-Boca must play Dec. 8 or 9 outside Argentina
Tuesday, November 27th 2018 - 17:12 UTC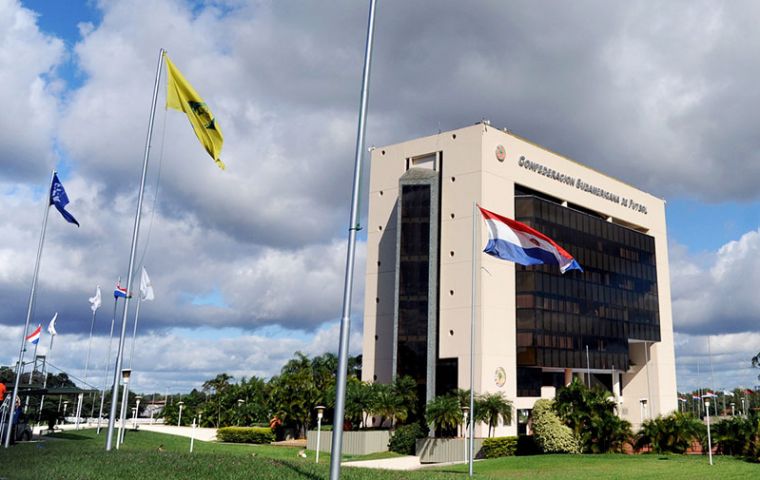 The South American Football Confederation (Conmebol) Tuesday ruled that the second leg of the Libertadores Cup final between River Plate and Boca Juniors will be played somewhere outside Argentina on December 8 or 9, it was announced in a statement from its headquarters in Asunción.
The match was to have been played at River's Monumental stadium in Buenos Aires last Saturday but it was prevented from taking place as hooligans of the home team threw stones and other objects at the bus carrying the Boca Juniors players, injuring some of them while others were affected by police teargas.
Buenos Aires City Security Minister Martín Ocampo resigned his post Monday, thus taking responsibility for the sloppy police deployment.
Conmebol is yet to rule where exactly the match will now be played and whether River Plate fans will be allowed in. The first half at a Bombonera stadium packed with xeneize fans ended in a 2-2 draw.
Also pending is a decision from Conmebol's independent disciplinary committee at Boca's request that River Plate be disqualified due to Saturday's incidents.
According to the statement, Conmebol will retain the right to schedule or reschedule the match as it sees fit, without prior consultation to either club.
Rumours by Tuesday afternoon in Asunción pointed at the local Defensores del Chaco stadium as the most likely venue after Paraguayan police authorites have been asked to start security preparations.
Otherwise, Miami or Dubai in the United Arab Emirates right before the World Teams Cup, to which the Libertadores Cup winners would qualify, would be chosen.