Second leg of Libertadores Cup decider set for Dec. 9 in Madrid
Friday, November 30th 2018 - 02:02 UTC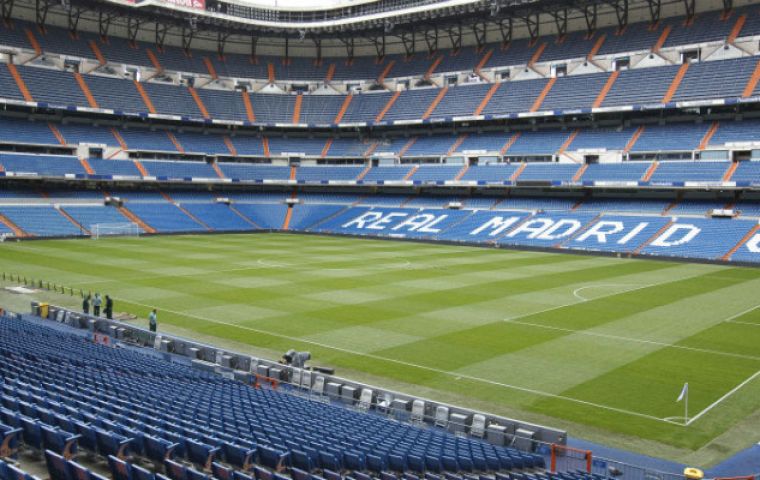 The South American Football Confederation (Conmebol)'s disciplinary board Thursday turned down Boca Juniors' request and thus cleared the way for the second leg of the Libertadores Cup final to be played at Madrid's Santiago Bernabeu on December 9, it was announced.
The first leg was held earlier this month at Boca's Bombonera. It resulted in a 2-2 draw with no away goal rule.
The second leg was to be played last Saturday at River Plate's Monumental stadium but it was rescheduled and eventually suspended after the bus carrying the Boca squad was stoned by home team hooligans.
Since some of their players were injured by pieces of broken bus glass while others were affected by police teargas, Boca petitioned that they were declared the winners, which was denied by the Conmebol's three-men body. Boca can still appeal this decision.
River saved the chance to play for the title instead of losing it on a desk. But he club was still fined 400,000 US dollars and banned from hosting any home crowd in their next two South American appearances starting in 2019.
River would only qualify for next year's Libertadores by winning the game in Madrid, while Boca are already there as Argentine Superliga champions.
"We found in Spain the neutrality we were looking for," said Conmebol President Alejandro Domínguez. He also explained that the largest group of Argentines living abroad is in Spain and that Madrid's Barajas airport offers the most number of flights to and from South America. Thise two factors proved decisive.
Spain's Prime Minister Pedro Sánchez posted on Twitter during his flight to Buenos Aires for the G-20 Summit that his country "is ready to organize the final of the Copa Libertadores between [Boca and River]."
He added that the local security forces were highly skilled and were already working "on the necessary deployment to guarantee the security of the event."
Upon landing at Ezeiza airport, Mr. Sánchez' arrival almost went unnoticed when his comparatively smaller Airbus was parked next to Air China's Boeing 747 bringing President Xi Jinping to the multi-national event.