Bolsonaro names an Admiral as Mining and Energy minister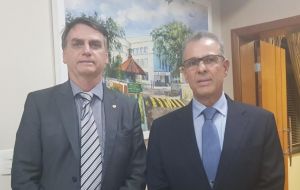 President-elect and former army captain, Jair Bolsonaro, has named a Navy admiral as his Mining and Energy minister. The appointment marks the eighth member of the armed forces to Bolsonaro's government and the 20th Minister appointed so far.
Bento Costa Lima Leite de Albuquerque Junior (60), the current head of Brazilian Navy's nuclear and technology development program, was born in Rio de Janeiro, and has been with the institution since 1973.
The new Minister will be tackling offshore oil licensing rounds and planned energy privatizations in his new job, according to a Twitter post from Bolsonaro's son, Carlos Bolsonaro.
The government-led transition team is already taking part in talks to free up billions of barrels of offshore oil reserves for development by foreign oil companies.
Some oil industry executives criticized Albuquerque's lack of experience in the sector, but the current Mining and Energy Minister, Moreira Franco welcomed the appointment and described the upcoming minister in a tweet as "very well prepared for the technical and command responsibilities of the sector."
While Bolsonaro hasn't yet provided specifics of his view for the mining sector, there are expectations for deregulation of the industry, but some of his past statements have activists up in arms.
He has said he may withdraw from the Paris climate accord if it means sacrificing sovereignty over the Amazon, an ecosystem with worldwide ecological significance. Asked about the indigenous reserves in the area, he has declared he won't add even a centimeter to them.
Climate scientists say Bolsonaro's intention to open the Amazon for greater development could make it impossible for Latin America's largest nation to meet its reduced emissions targets in the coming years.
Together with being the world's top iron ore producers, Brazil hold large reserves of bauxite, manganese and potash. It's also Latin America's number oil producer.