Xi Jinping furthers China's involvement with Argentina during meeting with Macri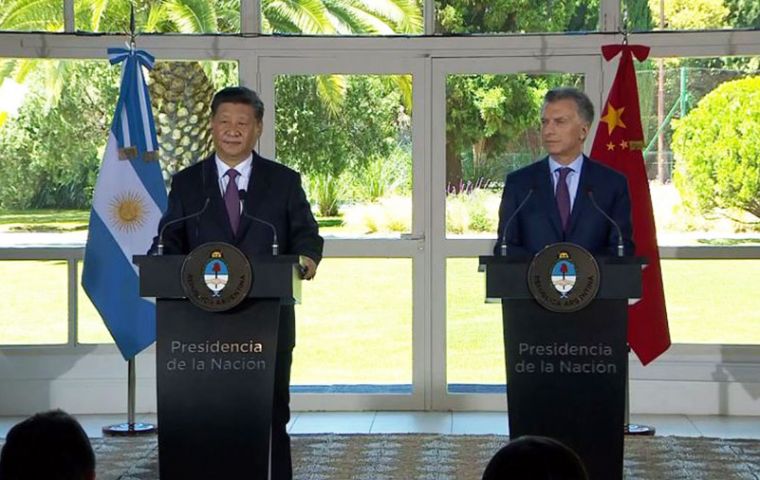 Presidents Mauricio Macri of Argentina and Xi Jinping of China Sunday met in a post-G20 encounter at the former's residence in the outskirts of Buenos Aires to further develop the relations between their two countries.
Both heads of state praised each other as they signed 30 bilateral accords and agreed on a currency swap worth 8.5 billion US dollars. The agreement is an extension of July last year's swap, which brings the total swap amount to 18.7 billion US dollars.
In a post-meeting press conference, Macri said that with they agreed on "a long-term agenda" and stressed their willingness to "continue working side by side" with China.
With regards to the commercial truce between the Asian giant and the United States, the Argentine president pointed out that "the better China does, the better Argentines will do."
Macri also underlined that Argentine food exports are becoming increasingly more welcome in Chinese markets. China is Argentina's second largest foreign trade partner after Brazil.
"We strengthen cooperation in economic, agricultural, [infrastructure] and financial matters, among other fields, the goal is to promote the long friendship between both peoples," said Xi Jinping.
Sunday's agreements provide for China to buy from Argentina beef, cherries, honey and other agrifood products as well as purebred horses.
In reciprocity, Argentina will open its logistics infrastructure (motorways and railroads) to Chinese investments.
The presidents reviewed the progress of the agreement of Integral Strategic Association in force between both countries and agreed on tools to increase and diversify trade and the arrival of Chinese investments in Argentina.
They also spoke about the role of Argentina in the "One Belt, One Road" (OBOR) initiative, referring to a combination of the terrestrial and maritime silk routes, adapted to the 21st century, with which the Asian giant relaunched its world trade.
The first currency swap worth exchange 11 billion dollars in 2014 under then-President Cristina Kirchner (2007-2015) and renewed by the administration of Macri in 2017, to cope with serious deficits in the external financial sector and a strong demand for dollars.
In a currency swap, the first party borrows a specified amount of foreign currency from the counterparty, while at the same time, lending a corresponding amount to the counterparty in the currency that it holds.
China is committed to maintaining the principles of commercial multilateralism in opposition to the protectionism of the White House, with a focus on Asian interference in America.
Xi is now scheduled to visit Panama, where negitiations for a free trade deal are being carried out.