Argentine federal security officers given more tolerance to use lethal weapons
Tuesday, December 4th 2018 - 08:57 UTC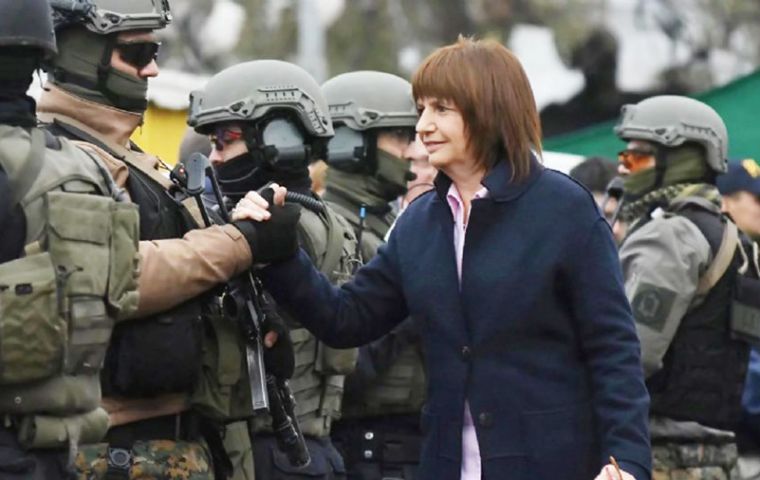 A tough new ruling has come into effect in Argentina allowing federal security officers to appeal to lethal weapons when faced with criminal actions. Resolution 956/2018, signed by Security minister Patricia Bullrich says lethal weapons can be used when "other non violent means are not effective".
This means the use of lethal weapons is valid in "self defense or in defense of other persons, in cases of imminent danger of death or serious injuries", with the purpose of impeding the commission of a particularly grave crime, with imminent risk of life or physical integrity of peoples".
Furthermore lethal weapons can be applied in the arrest of a person which represents imminent danger and opposes resistance to the authority, or to impede the breakaway of whom represents that imminent danger, and until attaining the arrest.
"Imminent danger" is described when there is threat of life risk or serious injuries for the acting officer or for third persons, or when the presumed criminal is in possession of a lethal weapon, even when it later results that is was a copy or simile of a lethal weapon.
The same principle can be applied when there is a realistic presumption that the suspect could be carrying a lethal weapon. In this last case when the suspect belongs to a group of two or more persons and another member of the group has a weapon or has fired, or has injured third persons".
Likewise when the suspect "tries to obtain a lethal weapon in circumstances that indicate the intention of using it against an officer or third persons, or in the case the suspect makes movements that indicate the imminent use of such a weapon.
The resolution further establishes that when the need to use lethal weapons, officers must identify themselves as such, warning aloud to cease all illicit activities, except in those cases where such an action can mean a death risk or grave injuries to other persons.
The federal security officer is not obliged to identify himself when his life or physical integrity are endangered or when it is evidently inadequate or unnecessary.
Article 4 makes it mandatory, in every situation where the use of lethal weapons causes injuries or death, to immediately request assistance and medical services to those injured. Finally these actions must be immediately communicated to the competent authority and higher ranks to ensure judicial supervision and the information of the relatives of those involved.
Resolution 956/2018 is effective for the Argentine Federal Police, Gendarmerie, Coast Guard and Airports Security police, all of which are under the jurisdiction of the Ministry of Security.