Bolsonaro names evangelical pastor to head a new Women, Family ministry
Saturday, December 8th 2018 - 09:34 UTC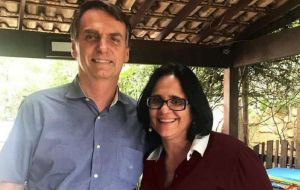 Brazil's right-wing President-elect Jair Bolsonaro named a pro-life evangelical pastor to head a new ministry of Women, Family and Human Rights that will also take over the agency looking after the country's 850,000 indigenous people. Damares Alves, a lawyer, preacher and congressional aide, is a staunch opponent of legalizing abortion, which is allowed only in cases of rape, anencephaly or when the mother's life is in danger.
She is the second woman named to the incoming president's 22-member cabinet, future chief of staff Onyx Lorenzoni said. Bolsonaro won the October election on a law-and-order platform, vowing to restore Christian family values in a society where he believes leftist parties went too far in introducing sexual education in schools and advancing LGBT rights.
While the appointment of a social conservative was expected in the rights portfolio, placing the indigenous affairs foundation Funai under its guard was a surprise move.
Bolsonaro says he will deny new land claims by indigenous tribes and favors opening their land to commercial mining and farming. He argues they have a right to charge royalties to improve their quality of life and to integrate with the rest of Brazil, comparing them to animals trapped in a zoo.
He recently considered putting Funai under the agriculture ministry, which would give farmers who backed his election an upper hand in land conflicts, but instead bundled them into the new rights ministry.
Earlier on Thursday, as his transition team decided on the new ministry, indigenous leaders in native headdresses delivered a letter asking Bolsonaro to keep Funai as part of the Justice Ministry.
Speaking to reporters after she was appointed, Alves said some indigenous land claims were questionable. "Defining land boundaries for indigenous land is a delicate and controversial issue that we will have discuss," she said.
Some 517,000 natives, about two-thirds of Brazil's indigenous population, live on reservations that represent 12.5% of the country's territory.
Environmentalists say the indigenous people on the reservations are the best guardians of Brazil's tropical forests and their biodiversity. The issue has gained more importance as the destruction of Brazil's Amazon hit its highest level in a decade, the government said last month.
That destruction is primarily caused by illegal logging, ranching and farming, officials say. Anthropologists and rights groups say allowing mining companies into reservations would also destroy native cultures.