Bolivia, Germany agree to join efforts in extracting lithium from Uyuni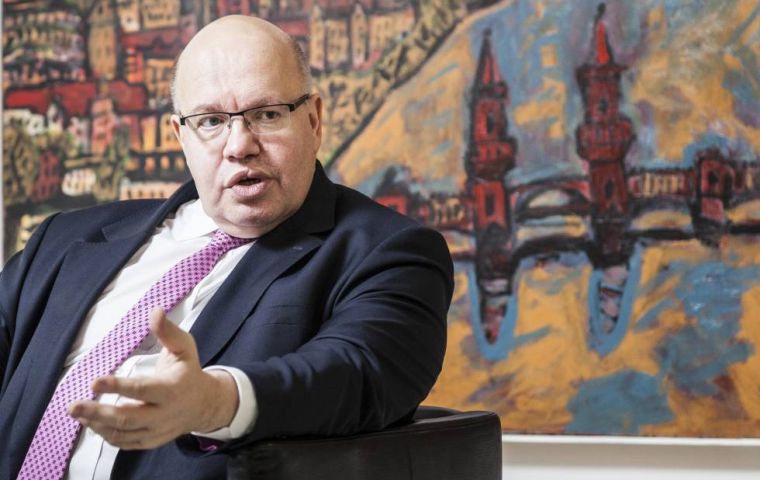 Germany and Bolivia will join forces for the extraction of lithium, as Europe's largest economy moves to secure supplies for battery-powered vehicles, which are believed to be looming over, the German government announced Wednesday.
The joint venture will create "competitive mining, now that lithium gains importance as an industrial raw material," Germany's Economy and Energy Minister Peter Altmaier said in Berlin during the signing of the agreement.
The agreement between the state-owned Bolivian Lithium Deposit (YLB) and ACI Systems Germany GmbH covers mining rights for the salt flats in Uyuni, where the world's largest lithium reserves are believed to be.
The joint venture demonstrates Germany's interest in securing supply amid an expected increase in demand for the key component of lithium-ion batteries.
For Bolivia, the Uyuni salt flat about 550 kilometers south of La Paz is an opportunity to create jobs and develop a lucrative mining industry.
Bolivia's Energy Minister Diego Pary also explained that the lithium extracted from Uyuni will soon be used in the production of battery cells in the same place.
ACISA, as the German company is known, will offer mining technology to the project, which seeks to supply up to 40,000 tons of lithium hydroxide during the year following the start of operations, in 2021, and will create up to 10,000 direct and indirect local jobs.
The Bolivian salt flat could contain around 9 million tonnes of lithium ore, approximately one sixth of the known world reserves and the Evo Morales administration is willing to invest the US $ 800 million in the project, it was announced.
The price of lithium has gone up recently, reaching a peak of US $ 296 per metric ton in May. Analysts expect demand to also go up from 300,000 metric tonnes of lithium carbonate in 2018 to almost 850,000 metric tonnes by 2025.
Bolivia's Uyuni plant has produced almost 250 tonnes of lithium carbonate this year, and YLB says it can raise production to 150,000 tonnes in the next five years, which implies a quarter of production share for the German-Bolivian joint venture.
Germany plans to create its own production of lithium-ion battery cells, which demonstrates its strategy to control a value chain that extends from mining to the application in next-generation vehicles and batteries.
It is expected that electric car sales will increase in Germany in the coming years. Volkswagen AG, the largest automaker in Europe, plans to launch 80 new fully electric or hybrid models by the middle of the next decade.