Evo compares himself with Messi and Cristiano Ronaldo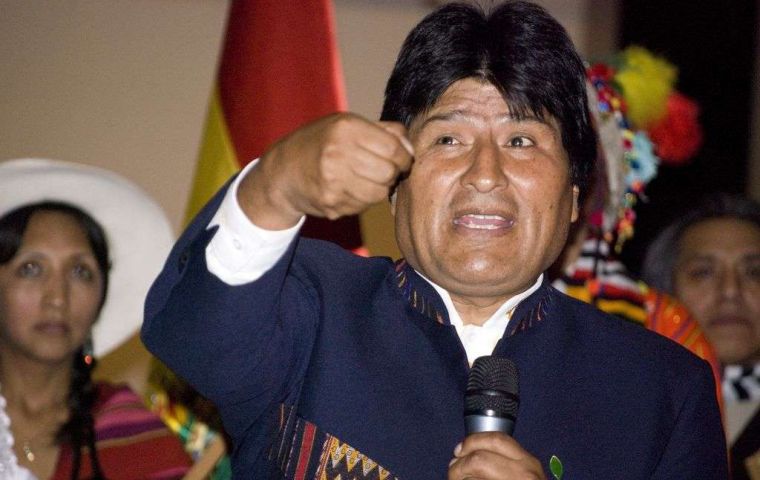 Bolivian President Evo Morales Thursday downplayed criticism against him being allowed to seek yet another reelection despite a constitutional ban and the "nay" victory at the February 21, 2016 referendum with which he tried to circumvent it by saying it would be as if stars Lionel Messi and Cristiano Ronaldo could not play for their national football teams.
"[Against] Argentina we need Messi out, but is the best player going to get out? Impossible!," said Morales in Cochabamba.
"Or that [against] Portugal we have to take out Cristiano Ronaldo ... because they are afraid," he added.
Morales, Bolivia's longest ever serving president, is under strong criticism from opposition politicians and from citizen movements because of his candidacy in the 2019 elections.
He was authorized last week by the Supreme Electoral Court (TSE) of Bolivia to run at the Movement to Socialism (MAS) primaries in January to start the race for a new term at the office he has been holding since 2006 and which would last until 2025.
The electoral body argued that a ruling of the Constitutional Court of Bolivia in 2017 that authorized indefinite re-election should prevail over the constitutional limit of two consecutive terms and also over the 21F referendum.
Morales said in his speech that the rightwing opposition "is afraid of the Bolivian people" and seeks to remove "the best players" from the list of candidates.
Morales has already been given the chance to seek a third term when the Constitution sets a cap of no more than two consecutive presidencies because the Constitutional Court construed that his first term did not count because in 2009 Bolivia transitioned from a Republic to the Plurinational State.
And Morales himself explained earlier this month in a TV interview that the reciprocal independence among the three branches of government was "at the service of the [US] empire."