Venezuelan Foreign Minister formalises complaint against US Chargé d'Affaires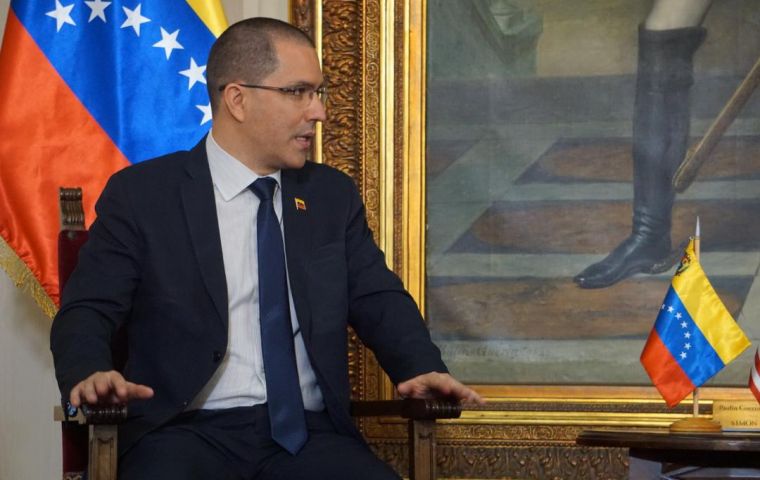 Venezuela's Foreign Minister Jorge Arreaza Thursday handed an official note of protest to the Chargé d'Affaires of the United States in Caracas -James Story- against the coup d'état and assassination plan against President Nicolás Maduro Moros, it was announced.
Maduro himself had denounced those alleged plans earlier this week, while he added he had faith in his armed forces and in the people of Venezuela to defend the Constitution. Also this week a Russian air fleet arrived in Caracas in what is regarded as solidarity from Moscow to fight off any uprising or invasion.
The document delivered to Story rejects "his interference as chargé d'affaires and his intrusions and opinions on domestic Venezuelan politics," demanding the diplomat to change his attitude, Arreaza said in later statements.
Arreaza also explained Venezuela's intention is to dialogue with the United States, suggesting even an open agenda meeting between Presidents Maduro and Donald Trump.
"The best thing I could do is to seek channels of dialogue with the United States, (...) to sit down in a civilized manner, respectful of our internal affairs," he added.
Maduro had denounced Wednesday, during a press conference that US National Security Adviser John Bolton was behind a terrorist and interventionist plan against Venezuela to overthrow a "democratically elected" government and through a coup d'état.
Before meeting with Story, Arreaza visited a few embassies in Caracas to denounce the recent interventionist plans of the governments of the United States and Colombia.