Actress, director Penny Marshall dies of diabetes-related complications at age 75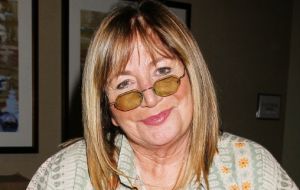 Penny Marshall, known worldwide for her acting role in the TV series "Laverne & Shirley" and for her many achievements as a film director such as "A League of Our Own," "Big" or "Awakenings," has died in her California home Monday night of complications from diabetes, a spokesperson for the family confirmed Tuesday. She was 75.
She first rose to fame playing Laverne DeFazio alongside Cindy Williams in the hit ABC comedy which aired from 1976 to 1983 and eventually became the first woman in history to direct a film that grossed more than US$ 100 million with the 1988 comedy "Big," starring Tom Hanks, something which she repeated with "A League of Her Own."
"Penny was a girl from the Bronx, who came out West, put a cursive 'L' on her sweater and transformed herself into a Hollywood success story. We hope her life continues to inspire others to spend time with family, work hard and make all of their dreams come true," a statement from the family said.
"Laverne & Shirley" was the No. 1-rated show for the 1977 and '78 seasons and aired until 1983.
"There were no blue-collar girls on television" when "Laverne & Shirley" debuted, executive producer Garry Marshall, Penny's brother who passed away in 2016, once said in an interview for the Archive of American Television.
With her Bronx accent, Marshall had been making minor inroads in Hollywood for several years before the Laverne and Shirley characters debuted as Richie and Fonzie's double dates on an episode of "Happy Days" in 1975.
Marshall also became a semi-regular on "The Odd Couple" as Oscar Madison's secretary and a regular on the short-lived "Paul Sand in Friends and Lovers."
Marshall's career received big boosts from brother Garry, who had been an executive producer on "The Odd Couple." Garry Marshall also created "Happy Days" and co-created "Laverne & Shirley."
In 1988, Penny admitted "I'm sure people thought I got parts because my brother was being nice, and at first I probably thought the same thing. But my brother finally told me, 'I'm not giving you a job 'cause I'm nice. I'm not that nice.'"
At the time "Laverne & Shirley" debuted, Marshall was married to Rob Reiner, who had gained fame on "All in the Family" playing Archie Bunker's liberal son-in-law. They later divorced. "I loved Penny," Reiner wrote on Twitter. "I grew up with her. She was born with a great gift. She was born with a funnybone and the instinct of how to use it. I was very lucky to have lived with her and her funnybone. I will miss her."
Marshall's work on her hit series drew the admiration of her then-father-in-law, Carl Reiner. "She has all the tools," Reiner Sr told TV Guide in 1976. "She can be the clown one moment, all nutsy crazy, and be very touching the next."
"Laverne & Shirley" had been off the air three years when Marshall made her feature film debut as a director of the 1986 Whoopi Goldberg comedy "Jumpin' Jack Flash." She had directed four episodes of "Laverne & Shirley" and the pilot for the short-lived 1979 sitcom "Working Stiffs" when she received an unexpected offer to replace director Howard Zieff 10 days into the shooting of "Jumpin' Jack Flash."
"It was real scary," Marshall told the New York Times in 1992. "I was hired on a Friday and went to work on a Monday. I didn't know you had to shoot from so many angles!" It was not a success, but "Big," a fantasy tale in which a boy wakes up in the body of an adult man played by Tom Hanks, was.
"Awakenings" (1990), a medical drama starring Robert De Niro and Robin Williams, came next. It received three Oscar nominations, including for best picture and actor in a leading role (for De Niro). Marshall went on to direct "A League of Their Own" (1992), "Renaissance Man" (1994), "The Preacher's Wife" (1996) and "Riding in Cars with Boys" (2001).
Marshall is survived by her older sister Ronny, daughter Tracy Reiner, and three grandchildren Spencer, Bella and Viva. A celebration of her life will be held at a later date to be announced, according to Marshall's family.