Colombia expels Venezuelan citizen with a FARC past
Thursday, December 20th 2018 - 17:00 UTC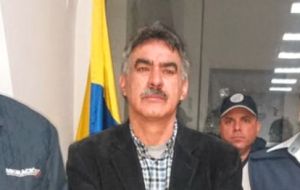 Colombian migration authorities Wednesday confirmed Venezuelan national Carlos Manuel Pino García was in custody in Bogotá, to be eventually deported Thursday.
The decision to expel Pino García was made "on a discretionary basis" by immigration authorities in accordance with Colombian applicable law, it was reported.
The immigration authorities also made it clear through a statement that Pino García, who had been living in Colombia for the past 19 years, was not registered as a diplomat, which seemed to be the case according to early press reports, and subsequently he enjoys no immunity.
Pino García will not be eligible to re-enter Colombia for the next ten years, after which he will be required to apply for a visa.
The arrest of Carlos Manuel Pino García, husband of Colombian politician Gloria Flórez, has had numerous repercussions within the Colombia Humana political group led by Senator Gustavo Petro, who considered the measure as "an evident systematic persecution" against his movement and blamed President Iván Duque for tearing a family apart.
But Article 2.2.1.13.2.2 of Decree 1067 of 2015, which authorises the Director of the Special Administrative Unit Migration Colombia, or its delegates, to expel aliens who in the opinion of the migration authority, carry out activities against national security, public order, public health, social tranquility, public safety or when there is intelligence that indicates that [he or she] represents a risk to national security, the public order, public safety, or social tranquility, the statement explained.
The Colombian authorities also stressed that Mr Pino García's fundamental rights had been respected to the fullest.
Pino's background may shed some light as to why he was deported: On May 26, 1999, an Army operation in the jungles of Vichada resulted in the dismissal of Josué Elíseo Prieto, alias Esteban González, who was considered the 'FARC Finance Minister'.
During the operation, the then Brigadier General Francisco René Pedraza, commander of the Seventh Army Brigade, assured that along with Prieto there were four Venezuelan citizens, who were allegedly linked to the Colombian guerrilla.
Among them were Pino García, Pedro Guzmán Tambor, Miguel Salazar Hernández and Carlos Félix Zambrano.
At the time, the Venezuelan government demanded the immediate deportation of citizens. Caracas maintained that the four of them did not know each other and that two of them were doing university research. Pino García was 44 years old back then and was an employee of the Central University of Venezuela (UCV).
The prosecution concluded that the four Venezuelan detainees were collaborators with the FARC guerrillas and that there was sufficient evidence to file charges against them for the crime of rebellion. Pino argued in his defense that he was on the site to find out what the place was like because he was interested in a tourism zone. But investigators found it hard to believe there was any chance to develop any tourism-related business in a part of the jungle under guerrilla control. But the case was eventually dropped and those captured were released on parole after posting bail.