Falkland Islands: Brazil flight indicative fares "extremely competitive"
Thursday, July 11th 2019 - 20:16 UTC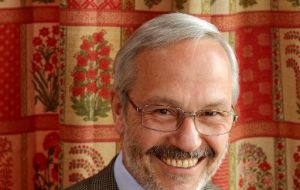 "Extremely competitive" is how MLA Barry Elsby, speaking to Penguin News this week, described indicative fares for the new flight to Sao Paulo from the Falklands, beginning November 6.
Last Friday the Falkland Islands Government announced, "an agreement has been finalised with LATAM Airlines Brazil to introduce a second international commercial air link to the Falkland Islands with a weekly service from São Paulo/ Guarulhos (with a monthly stop in Cordoba, Argentina), complementing the existing weekly flight to Santiago, Chile."
MLA Elsby said: "We have steadily worked with Latam on this flight. Normally developing a new flight would take a year or two but we have tried to concertina that into a matter of months."
Air fares are still being discussed but, "the main hump is over now," he said. On pricing he explained, "What we said at the very beginning was that we wanted a much better fare structure than we've got for the present flight, where it is a prohibitively expensive flight from here to Punta Arenas, and Latam accept that. So, the indicative prices are extremely competitive, but we need to wait until the end of the month until we've got all of those final agreements."
He said Latam see the Falklands link as "a commercial venture," and they anticipate profits from feeding travelers from the Falklands into flights out of Sao Paulo and vice versa.
The flight, "will give us the ability to move people around without an overnight stop in Santiago as we presently have," he said. Currently you can fly on from Santiago the same night, but the numbers of flights are very limited.
He added: "What you want is a whole range of options so you can fall off one plane and within a couple of hours you are on the next plane to go who knows where.
"And I think that will appeal to people coming to the Falklands as a tourist; I think we are all very pragmatic and have got used to the idea of going to Santiago and having the night over, but tourists want instantaneous access."
He said FIG had made it clear to Latam that passengers should have access to a range of fares, "so if you knew you were going somewhere in four months-time and booked online four months before you flew, you get a better deal than if you booked two weeks before you go, or on the day. And that's how normal airlines work and that's what we see becoming available here…
Politics
On politics he noted that they had been, "keen to get the deal signed before a potential change of Government in Argentina."
He assured: "It's very much more difficult to stop a service once it's in operation, than to derail a process. And if we look at what happened during the worst times of Cristina de Kirchner the flight wasn't stopped, and it wasn't moved to go to BA…"
Reactions from the industry
Manager of International Tours and Travel Ltd Sally Ellis said: "It's exciting times. We assume that given the announcement the flight and fares will now be loaded into LATAM's booking system and once it appears, we will be able to start providing quotes and making reservations. That will be a learning curve for us as we figure out what is available and what is combinable with existing fares etc. We will of course advise via our normal advertising outlets as soon as reservations are possible, and of course the public should also be able to see and book the flight via the airline's website and other booking sources. "
From a preparation point of view Mrs. Ellis said: "We will need to look at ensuring we are sufficiently staffed to deal with an additional airport operation midweek, and we are liaising with FIG and the airline on facilities at the airport to enhance the check-in procedure."
Owner of Falkland Islands Tours and Travel Ltd. Andrea Clausen was also excited and supportive of the flight.
She said: "We have already been cross-checking where there may be overlap in requirements between the new flight and cruise tourism for the forthcoming season and have plans in place to continue to provide services to all of our clients as we do now, when we have an MOD or Saturday LATAM flight clashing with ship visits. In anticipation of the increasing work load we have already been exploring the options of employing additional staff on a full time basis to assist with this demand, in the mean time we will continue to call on the support of our large bank of casual drivers who we look forward to providing some extra hours work for from sixth of November onwards."
She added: "We can only hope that the plans for the terminal development and continued nonrestrictive use of the runway and facilities for this flight, and others that may follow, continue so that we can continue to grow our economy as we wish, unhindered."
Mrs. Clausen said: "We have also being preparing for this flight at the Post Office, when FPS recently appointment ted a new member to the team we were happy to offer them a four day week contract so they could continue to work security for the Saturday LATAM and the Wednesday flight when it happened."
Falkland Islands Company Ltd. (FIC) Services Manager Andy Williams commented: "The Falkland Islands Company is very pleased that the second flight from Sao Paulo has now been confirmed. We are confident this will encourage more visitors to the islands, providing them with further options on how long they can visit for using the new Brazil connection.
The Falklands, as a result, should enjoy a significant increase in land-based tourism with more Antarctic cruise vessels able to do more passenger turnarounds in Stanley. We look forward to seeing infrastructure improvements at MPC and in Stanley to support the increased tourist and passenger numbers that can now be expected.
"The FIC is fully prepared and ready with an increased number of vehicle assets within Penguin Travel to support increased transfer numbers between MPC and Stanley and individual and group tour bookings from visitors."
Tourism Coordinator Sulivan Shipping Services Ltd Carli Sudder said; "The announcement of the second flight is a very welcome and positive news for not just those in tourism but opening access to the Falklands across all industries. We look forward to the new opportunities the second flight will bring."
Air Terminal
Regarding the Air Terminal MLA Elsby said there were two parts to the plan. "There's the longer-term picture of a wide -bodied plane coming in with 250 people fully loaded and ideally 250 people waiting in the departure lounge to go onto it, but we haven't got the capacity. So firstly, we are developing some work arounds for the next couple of years of how we will manage that, and we will manage it well.
But the longer-term picture is we need to develop a new terminal and that is going to be almost certainly built at MPA, not necessarily where it is now, but very close. And that will be used by the military and civilians."
He said the long-term aim was a terminal "fit for a country to use.
We need to build something that will showcase the Islands and really be something we are proud of."
He envisaged a business class lounge, proper seating for everybody, "areas for children, plenty of drinks and food and a good duty free. So it's developing what we want for years to come. It's going to be there for many years so we shouldn't skimp on what we are building because who knows we might even get a third airline flying in the future." (Penguin News)