Russia and Bolivia sign accords during Evo's new Moscow trip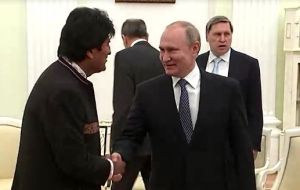 Bolivia's President Evo Morales and his Russian counterpart Vladimir Putin Thursday signed agreements in Moscow on energy, industrial, agricultural and military issues and discussed the Venezuelan crisis negotiations that are taking place in Norway between delegates of Juan Guaidó and Nicolás Maduro.
At a ceremony in the Kremlin Grand Palace, both leaders signed seven agreements in the areas of energy, public safety, nuclear safety and exploration projects in the lithium industry, among others.
The Bolivian leader explained to Putin that Bolivia promotes the execution of the bioceanic train, as a mechanism for regional integration and an alternative way out overseas.
The Russian president confirmed that his country will participate in the expansion of the Santa Cruz airport and in the construction of the Central Bioceanic Railway Corridor, which, through Brazil, Bolivia and Peru, will connect by train both oceans, the Atlantic and the Pacific, through about 3,750 kilometers.
Morales highlighted the "great opportunity" of signing agreements with Russia and affirmed that these "will allow Bolivia to continue growing economically."
And about the Venezuelan crisis, Putin explained that "Russia has stressed on more than one occasion that external interference in the affairs of Venezuela is unacceptable, and Mr. Morales shares that position."
"We hope that in the framework of the negotiations between the Venezuelan Government and the opposition, which began with the mediation of Norway, acceptable solutions will be found for all Venezuelans," he added.
For his part, Morales, who visits Russia for the second time in just over a year, declared himself "very much an admirer" of the Russian president, who, he said, "leads the fight for the respect of international law."
According to Morales, "there can not be unilateral positions, impositions, interventions and presidents, maybe very few (...) we fight for the sovereignty and independence of our states, for the dignity and identity of our peoples."