Bolivia downplays risk of Brazil withdrawing from bioceanic railway project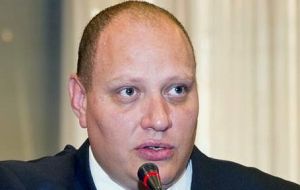 Bolivia's Foreign Trade Vice Minister Benjamín Blanco downplayed any risk that Brazil might opt out of the Bioceanic Railway Integration Corridor (CFBI) after the Brazilian ambassador said on Friday it was not a priority, amid fears that given the political differences between the two countries, the Bolsonaro administration might prefer a similar project with Argentina and Chile.
Brazil's ambassador to Bolivia, Octávio Henrique Dias García Côrtes said in a radio interview on Friday that the project is not a priority for the government of President Jair Bolsonaro because it has no date for its execution.
"This initiative is going to come out, but you do not know when," Dias García Côrtes explained during the live broadcast.
Dias García Côrtes highlighted the importance of this project because it will facilitate transport and trade through Bolivia, Brazil, Peru and Paraguay.
"Our position is that the project is important. It will be implemented in some time, but there is no date yet," explained the diplomat, who added that thence the priority allocated to other issues such as road construction and border security.
In view of that statement, Bolivia's government downplayed any risk that Brazil might choose to withdraw from the CFBI project and ratified that both countries, in addition to Peru and Paraguay, carry out an agenda inherent thereto. In fact, Brazil even offered to host the next technical meeting, according to Blanco.
Pedro Guevara, Economic and Commercial Counselor of the Embassy of Peru in Bolivia, insisted that a work of such magnitude will be justified only if Brazil is a part of it.
However, Blanco said that Brazil was an active part of the meetings of the technical teams of the transport and foreign ministries of each country, to the point of offering to host the next meeting in Campo Grande on August 23.
"The project is designed with the participation of Brazil. The idea is to have a corridor that connects the Atlantic with the Pacific," Blanco said.
"Brazil has expressed interest in participating, this project has been declared of regional interest by the Mercosur countries, of which Brazil is a member," he added.
Blanco also explained that once the review of the terms of reference is completed, the technical teams will continue with the final design study and the evaluation of the funders.
The vice minister also indicated that in this last point there are several alternatives, such as Germany, Switzerland and recently Russia, which expressed interest in participating in the financing or construction of the train that will connect the Brazilian port of Santos (Atlantic) and the Peruvian port of Ilo (Pacific).
According to preliminary figures, the railroad would stretch for about 3,755 kilometres and would transport 10 thousand tons of cargo per year.