Tabaré looks forward to bilateral meeting with Bolsonaro at Mercosur summit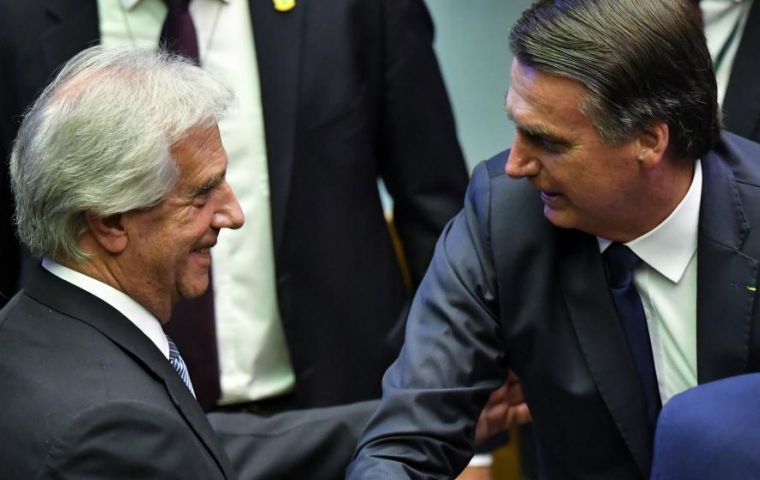 Uruguay's President Tabaré Vázquez is ready to hold a first-ever one-on-one meeting with his Brazilian counterpart Jair Bolsonaro to discuss bilateral issues, during this coming Wednesday's Mercosur summit at the newly remodelled west wing of the historic Belgrano Railway Station in the city of Santa Fe, Argentina.
Vázquez also plans to meet the Petrobras Chairman following the oil company's withdrawal from his country.
The four Mercosur heads of state will convene for the ceremony during which Argentina's Mauricio Macri will hand over the bloc's pro tempore presidency to Bolsonaro and celebrations are expected in light of the free trade agreement with the European Union signed weeks ago in Brussels.
It will be Bolsonaro's first appearance in a meeting of this kind, but the atmosphere is likely to differ from that six months ago in Montevideo when the future of the region was uncertain.
Brazil is said to be making arrangements for commercial agreements with Canada and EFTA (Switzerland, Norway, Iceland and Liechtenstein), according to diplomatic sources.
But since Brazil is the second destination of Uruguayan exports, foreign affairs officials are finalising preparations for a Vázquez-Bolsonaro encounter, which Monday seemed "very likely," to take place with an open agenda, according to Montevideo's newspaper El Observador.
Exports to Brazil in 2018 fell 6% with respect to the previous year, with sales exceeding US$ 1.130 billion. Among the best-selling products are plastics (15% of the total), malt (13%) and dairy products (12%), according to the Uruguay XXI annual report.
Vázquez, who was one of the ten presidents present at Bolsonaro's inauguration ceremony on January 1, remains the only regional leader who is yet to sit down with the retired army captain.
In the past few months, Bolsonaro has closed ties with Macri with whom he met twice and spoke by phone on several occasions. And Bolsonaro is even closer with Paraguay's Mario Abdo Benítez, whom he met three times to deepen their mutual "friendship" and "ideological affinity."
Early last month, Uruguay's Foreign Minister Rodolfo Nin Novoa met with his Brazilian colleague Ernesto Araújo at the Itamaraty Palace, in a harmonious atmosphere and started drawing the blueprint for a Santa Fe encounter between both leaders and at the same time signed an agreement to avoid double taxation, projected a second bridge to be built in the city of Yaguarón and stressed the importance of continuing to strengthen Mercosur.
In the ordinary meeting, Vázquez, Macri, Bolsonaro and Abdo Benítez, are expected to analyse the creation of a triple border committee in Bella Unión, Quaraí and Monte Caseros and will discuss Bolivia's compliance to become a "full member" of the bloc.
Vázquez will travel to Santa Fe on Tuesday when he is due to meet Petrobras boss Roberto Castello Branco, the president of Petrobras Brasilñ.
In April, the Brazilian state-run oil company announced its intention to return the natural gas concession for pipelines it has in the country (through the companies MontevideoGas and Conecta) and begin negotiating its exit with the Uruguayan government. It then announced the sale of new assets, including 88 petrol stations in Uruguay, within the framework of new guidelines for its disinvestment plan.
"The scale we have in Uruguay does not interest us, I came to discover that Petrobras is the largest gas distributor in Uruguay, with two companies, in which we were forced to make 15 capital contributions in 13 years," Castello was quoted as saying last week.
In 2018, Petrobras briefed the Uruguayan government that the conditions of the business had changed and that was why it was necessary to rearrange the company's economic-financial equation that included a labour restructuring, which sparked rifts with unions, which decided to implement a "workers control" in the plant and oceans, which led to judicial intervention and eviction by the police, which ended with a 14-day suspension to 53 workers who participated; four of whom were later dismissed for notorious misconduct and previous negative work history.
After this, the parties agreed to negotiate at the Labour Ministry but have not yet reached an agreement. In the meantime, on May 23 the workers were received by Vázquez at the Suárez and Reyes Residence.
But early in June, the union started a general strike, which is maintained to this day. Union leader Alejandro Acosta told El Observador that they are waiting for the president's meeting with Castello Branco to later discuss the situation with the head of state.