Uruguayan President Vázquez underlines the importance of the EU deal for Mercosur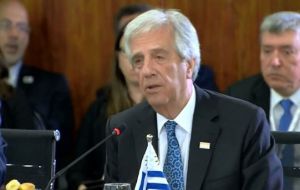 Uruguay's President Tabaré Vázquez Wednesday highlighted in the Argentine city of Santa Fe the partnership agreement reached in the first semester of the year with the European Union (EU) as a very important achievement for Mercosur after 20 years of negotiations, 39 formal meetings and many other informal ones, for which he thanked the technical teams involved.
Vázquez made those remarks in the framework of the bloc's 17th summit, during which the hosting President Mauricio Macri passed on the alliance's rotating presidency to his Brazilian colleague Jair Bolsonaro.
The meeting was also attended by the president of the fourth founding country, Paraguay, Mario Abdo Benítez, and two of the bloc's associated states, Evo Morales, from Bolivia, and Sebastián Piñera, from Chile.
Vázquez welcomed the historic agreement between Mercosur and the EU and stressed that, once it enters into force, 70% of EU tariffs will be eliminated immediately and the two blocs will be integrated in reciprocal trade worth over 90 billion US dollars, an expanded market of 800 million people and almost a quarter of the world's gross domestic product (GDP).
"Improving the international insertion is an indispensable requirement to generate more business opportunities, investment, employment and, therefore, more economic development for our people," added Vázquez in a statement.
Vázquez also explained that Uruguay supports and participates "very actively" in all the negotiation processes carried out by Mercosur.
"Historically and culturally, our peoples have the same roots, European and Mercosurian, and we hope that this agreement includes all the citizens of our countries," he elaborated.
The Uruguayan president also stressed that in addition to enhancing the external role of the bloc, it should continue to improve its internal structure to adapt it to the challenges of the current world.
"Uruguay is strongly committed to the social and economic integration of Latin American states, especially in the common defence of their products and raw materials and, according to our Constitution, in international treaties a clause will be proposed that all differences be decided by arbitration or other peaceful means," he said.
Finally, Vázquez wished Bolsonaro well at his temporary presidency. "You can count on the full collaboration of the Uruguayan Government to move forward [along] the path recently drawn in regard to the development of regional integration," he said.