What did the Mercosur's leaders say about Venezuela in Santa Fe?
Thursday, July 18th 2019 - 09:40 UTC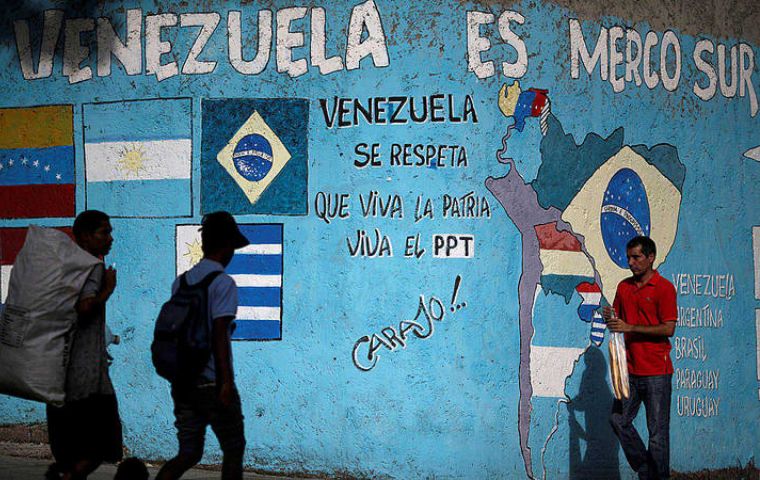 The political and economic crisis in Venezuela was the center of the political debate among the heads of state that, this Wednesday, met in Santa Fe, Argentina in the Mercosur semi-annual summit, a block from which the Caribbean country is currently suspended. Neither Uruguay, Bolivia nor Chile addressed a word regarding the Venezuelan situation.
The host of the regional meeting, the Argentine president, Mauricio Macri, affirmed that he recognizes the National Assembly as the legitimate State organ of the country, and expressed his solidarity with Venezuela and the humanitarian crisis that he blames the regime of Nicolás Maduro. Also, he called on him to "stop obstructing the democratic transition and stop with the violations of human rights of Venezuelans."
The president of Brazil, Jair Bolsonaro, maintained that the social, political and economic crisis that Venezuela is experiencing was born "from the populism and the irresponsibility of a project of a country that had no limits."
"We do not want what happens unfortunately with Venezuela. We ask God to give us strength and intelligence and that the destiny of Venezuela is the same as we have, that is, democracy, freedom, and prosperity," said Bolsonaro.
For his part, the Paraguayan president, Mario Abdo Benítez, reminded everyone present that "one of the fundamental pillars of Mercosur is the political agreement, which must be translated into mechanisms that guarantee the full validity of the Rule of Law and Democracy."
As for the other members of the debate, the presidents of Uruguay, Tabaré Vázquez, Bolivia, Evo Morales, and Chile, Sebastián Piñera, respectively, opted not to refer the crisis that Venezuela is experiencing during their interventions.
In August of 2017, Mercosur suspended Venezuela due to the illegitimate takeover by the regime of Maduro. But despite this suspension adopted by consensus, the position of the members of the bloc is not entirely univocal regarding the situation in Venezuela, thus persisting the constant of how to help to achieve the cessation of the usurpation.