Falklands' lawmakers attending overseas conferences in September and October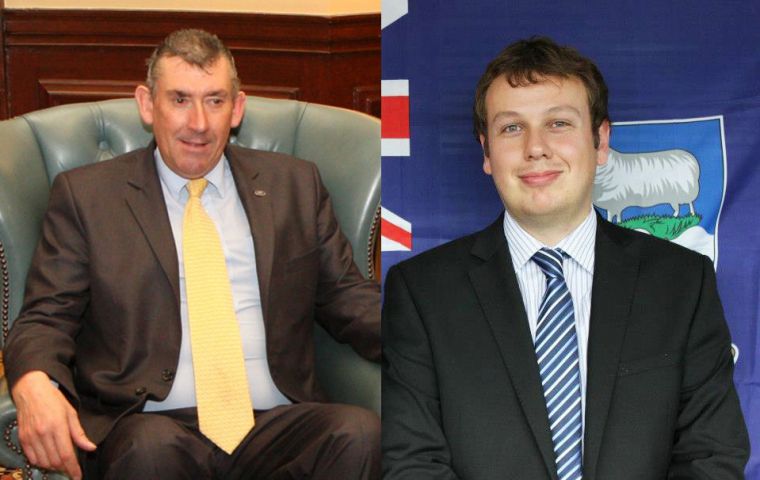 Busy months ahead for Falkland Islands lawmakers who will be attending at a very special moment several overseas meetings of major interest for the Islands. In coming weeks the Falklands as a British Overseas Territory faces one of its greatest challenges for its future, in uncharted waters and still unclear trade and political consequences, such is the impact of Brexit.
This month CPA Executive Committee Member, MLA Leona Roberts, MLA Dr Barry Elsby and the Clerk of the Assembly will be attending the 64th Commonwealth Parliamentary Conference in Kampala, Uganda.
During the conference, Members will be leading on a workshop session "Innovation in Parliament – The possible effects of United Kingdom Brexit on CPA Small Branches". The session will enable the Falkland Islands delegation to engage with other small branches around the Commonwealth to understand the ramifications of Brexit on British Overseas Territories and Crown Dependencies, whose economies are made potentially vulnerable to economic dislocation.
Prior to the conference, MLA Roberts and the Clerk will attend the British Islands and Mediterranean Regional Women's Conference in Jersey entitled "The next 100 years". During that week MLA Roberts will also be meeting with veterans from the Falklands War and local conservationists. MLA Elsby will travel via South America and hold public diplomacy meetings in transit.
MLAs Stacy Bragger and Ian Hansen will be attending the Conservative and Labour Party conferences in Brighton and Manchester, accompanied by officers from FIGO. The Falkland Islands Government will host a stand at each of the events and MLAs Bragger and Hansen will take the opportunity to meet with Ministers prior to and during the events.
Other overseas engagements during October are as follows: MLA Mark Pollard will be attending the Stanley Services Limited Board meeting and holding public diplomacy engagements in the UK.
MLA Roger Edwards will be attending the EUOCTA meetings in Brussels and MLA Teslyn Barkman will be attending the McGill University in Montreal, Canada as part of the CPA Fundamentals Program on Parliamentary Practice and Procedure for CPA Small Branches. This course was undertaken by MLA Leona Roberts last year.