Trump leaves Nato summit following footage showing several world leaders making remarks about the president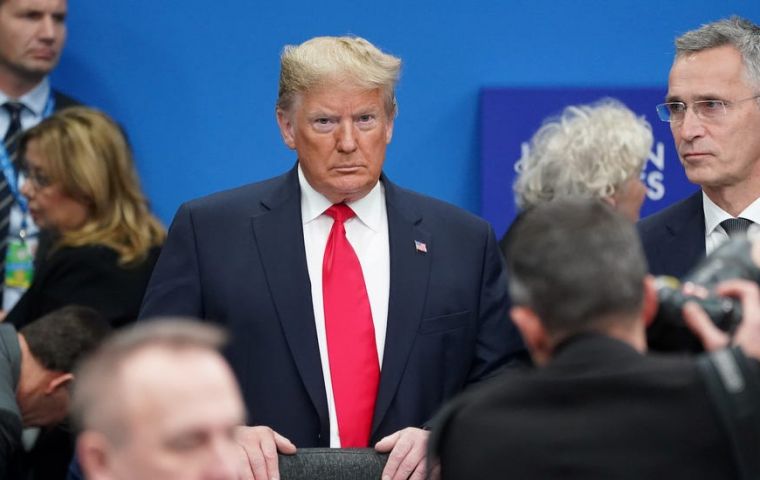 US President Donald Trump has left a major Nato summit early following video footage which appeared to show world leaders poking fun of him. Footage from an event on Tuesday night emerged that showed several world leaders making remarks about Trump.
Canadian prime minister Justin Trudeau was filmed in a conversation with British Prime Minister Boris Johnson, France's President Emmanuel Macron, Britain's Princess Anne and Dutch Prime Minister Mark Rutte by the British host's camera pool.
In a press conference on Wednesday alongside Angela Merkel, Trump blasted Trudeau as "two-faced" before cancelling further engagements at the Nato meeting, and leaving. The exact reason why Donald Trump suddenly left the summit has not been made clear.
Earlier, a smiling Donald Trump was pictured shaking hands with Boris Johnson at the Nato summit, as the PM reaffirmed Britain's commitment to the alliance remains "absolutely rock solid."
The UK Prime Minister has previously avoided one-on-one photo opportunities with the US President during the two-day meeting of Nato leaders in Watford, near London, and has instead sought to focus on domestic policy pledges.
Donald Trump tweeted on Wednesday: "Enjoyed my meeting with Prime Minister Boris Johnson of the United Kingdom at 10 Downing Street last night. Talked about numerous subjects including Nato and Trade."
On Tuesday evening Nato leaders gathered at Buckingham Palace for a state event hosted by the Queen, where Macron, Trudeau, Johnson were apparently caught making remarks about Donald Trump.
The President had held an impromptu press conference earlier in the day where he took questions from reporters. In a video from the event, Trudeau can be heard saying "he's late because he takes a 40-minute press conference off the top."
In the video, Johnson can be heard asking Macron: "Is that why you were late?" Trudeau interjects: "He was late because he takes a 40-minute press conference off the top." "Yeah, yeah, yeah! Forty minutes."
Other words were exchanged but could not be heard, before Trudeau added: "I just watched his team's jaws drop to the floor."
In a press conference on Wednesday, Trudeau played down the video, saying that he had been surprised but happy with events at a bilateral meeting earlier in the day.
"We had a great meeting yesterday between me and the president... Last night I made a reference to the fact there was an unscheduled press conference before my meeting with President Trump, I was happy to take part in it but it was certainly notable," Trudeau said, when asked whether he had apologized to Trump for the comment.
"We were all surprised and I think pleased to learn that the next G7 will be at Camp David, I think that was an unscheduled announcement and... I think every different leader has teams who every now and then their jaws drop at unscheduled surprises, like that video itself for example," Trudeau said.
In a separate press conference on Wednesday, Johnson said that it was "complete nonsense" to suggest he did not take Trump seriously. "That's complete nonsense and I don't know where that has come from."
Asked if the leaders had been talking about Trump, he said he didn't know what was being referred to.
Trump arrived in London on Monday evening planning to tout a foreign policy accomplishment his presidential campaign wants him to run on: Successfully pressuring allies to pay more towards the costs of running Nato.
Less than 48 hours later - after he was put on the defensive in front of the cameras and then was the subject of gossip at a reception of world leaders, a moment caught in a viral video - Mr Trump cancelled a planned news conference before heading back to Washington earlier than planned.
The timing was not perfect. Mr Trump had hoped the 70th anniversary celebration of Nato might provide a flattering stage and a triumphant narrative, even as Democrats on Capitol Hill on Wednesday trotted out sober legal scholars to testify at the House Judiciary Committee's first public impeachment hearing.
But instead of creating a split screen, Mr Trump failed to produce the statesmanlike narrative his campaign had hoped for. The result was he appeared boxed in both at home and abroad, ultimately overshadowed by diplomatic dynamics that put him on the back foot.
"We'll go directly back," Mr Trump told reporters before a meeting on Wednesday with Chancellor Angela Merkel of Germany, as he surprised his aides by abruptly scrapping plans for a formal news conference. "I think we've answered plenty of questions."
Mr Trump had, in fact, answered hours of scattershot questions from the news media by the time the gathering was over.
But his quiet departure from Britain - without a splashy tabloid newspaper interview or a sit-down with a friendly television personality, or the set-piece final news conference he typically conducts when abroad - seemed to show an uncharacteristic admission of defeat.