Cristina Fernandez again considered the most influential Argentine
Saturday, January 18th 2020 - 08:48 UTC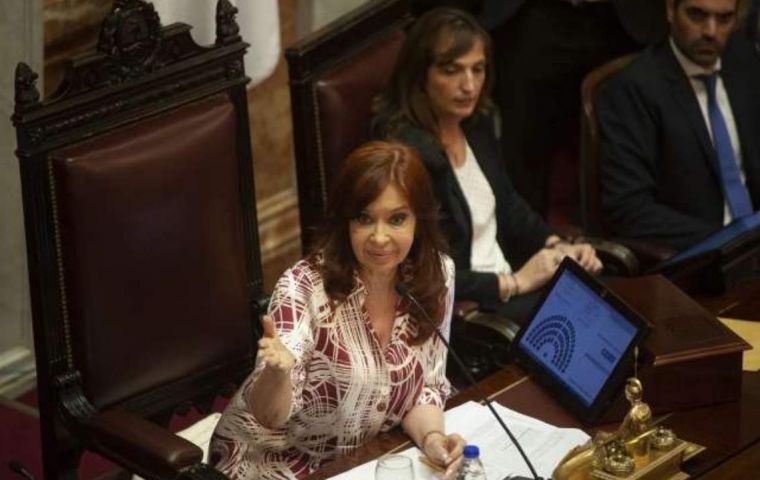 After eight years in office, back in 2015, when ex-president Cristina Fernandez left office, she ranked ninth among the most influential Argentines, according to an ongoing national opinion poll from Giacobbe & Associates which was started in the nineties.
But the 'wicked witch' of then and following years in opposition facing a raft of court cases, Cristina is back and again in the summit as the most influential Argentine personality.
In effect the poll interviewed 1.500 holders of cellular phones, a month ago at the culminating moment of Cristina Fernandez comeback when her handpicked candidate, Alberto Fernandez took office as president of Argentina with her completing the ticket as vice-president.
However Alberto Fernandez was ranked in third place behind Cristina and the outgoing conservative leader Mauricio Macri. But for the former cabinet chief it was also a spectacular comeback because since 2007 Alberto Fernandez did not even figure among the 100 most influential Argentines, according to Giacobbe & Associates.
An analysis of the 57% interviews indicating Cristina Kirchner as the most influential are split half and half between those expressing hope and those expressing fear, and something similar happens with Macri's supporters, according to G&A.
Some of the conclusions from G&A indicate that, after 25 years of the Influential Ranking poll, it is exceptional that the president does not head the list. The 2019 result is uncommon and it surfaces every time Argentines have doubts about "who really is running the show". For example in 2008 and 2009, although Cristina was president her husband, Nestor was ranked as the most influential Argentine.
During the coming weeks this confusing situation should tend to clear up. This means that Alberto Fernandez effectively becomes the most influential Argentine, but he still has to achieve it, and it's not an easy task given the political standing and character of Cristina.
The top ten, include Maria Eugenia Vidal and Alex Kicillof, the former and new governor of Buenos Aires province, the most important electoral circumscription of the country; Pope Francis; television presenter Marcelo Tinelli; former opposition lawmaker Elisa Carrió; ex president Juan Domingo Peron and Jose de San Martín, considered the liberator of Argentina.
Other interesting names in the list are football stars Leonel Messi, position 13 and Diego Maradona, 14. The first foreigner listed is president Donald Trump, 20 and ex IMF head Christine Lagarde, 16.
Summing up the list of the hundred most influential has 82 Argentines, 11 foreigners, 76 males and 17 females, 70 alive and 23 dead. The list also includes organizations such as newspapers Clarin (43), La Nacion (100), the IMF (53), Channel C5N (67), the unions umbrella organization, CGT, (98) and the Argentine Supreme Court, (99).