Foreign Office official visits Argentina to address a long agenda including Falklands
Monday, March 2nd 2020 - 06:50 UTC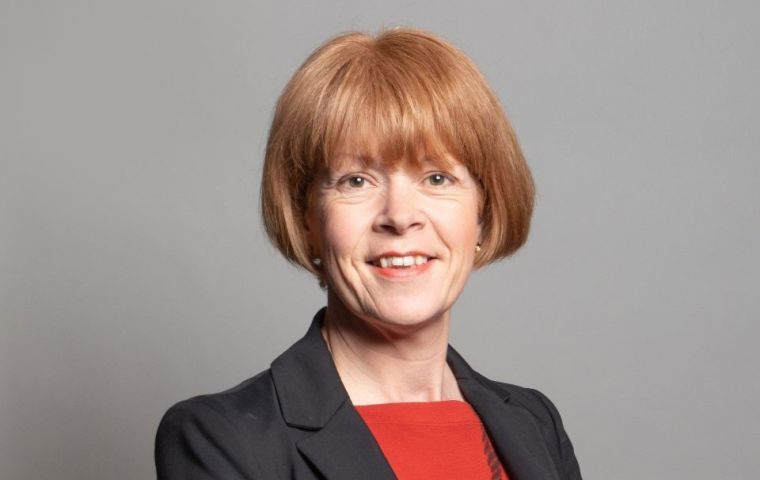 Wendy Morton, the foreign office minister of European Neighborhood and the Americas arrives this Monday to Buenos Aires to meet with members of the Kirchner government, who over the weekend announced a new more demanding and aggressive Argentine policy referred to the Falklands and South Atlantic Islands sovereignty claim.
This will be in effect the first meeting of a Boris Johnson government top official with Argentine counterparts, following a couple of years of constructive bilateral relations under the administration of ex president Mauricio Macri, which helped to advance on several issues including the identification of Argentine soldiers' remains buried in the Falklands, in unknown graves, and in fisheries.
Ms Morton arrives from easy-going Montevideo where she attended the inauguration of Uruguayan president Luis Lacalle Pou and opened the new wing of the local British Hospital. But in Buenos Aires the climate will be different.
She is scheduled to meet with Foreign ministry undersecretary Pablo Tettamandi and Production minister Matías Kulfas, and most probably will listen firsthand the demands of the renewed Falklands approach, which seems similar to that when the Kirchner couple, for almost twelve years, virtually blockaded the Islands with the intent of strangling its economy.
But Argentina is also interested in post-Brexit business with UK, increasing bilateral trade and promoting investment in pharmaceuticals, non renewable energy plus science and technology, and cooperation, where UK has an edge.
The new Argentine government has also anticipated it wants to continue with the humanitarian plan to identify Argentine combatants remains buried in the Falklands, a plan under the guidance of the International Red Cross.
But for the new Argentine government with its Kirchnerite/Peronist roots Malvinas is a highly sensitive issue and there is even talk of a review of the Duncan/Foradori communiqué of 2016 which opened the way for more positive bilateral relations with UK, and a special chapter on the South Atlantic.
The current government is convinced that the Macri administration gave in too much by allowing the second air link between the Falklands, and Sao Paulo, Brazil, and resuming the joint fisheries scientific research cruises. Allegedly the Macri administration was soft in the sovereignty claim and overlooked the natural resources, fisheries and hydrocarbons resources. Finally Argentina is working at foreign ministry level in a project to establish the outer limits of the continental shelf, which when finished will be sent to Congress for its approval, as announced by president Alberto Fernandez.
This means that to the offshore 200 miles area of approximately 4.8 million square kilometers, Argentina will be adding another 1.8 million sq km of sovereignty rights over the sea floor and subsurface natural resources. However under the UN Law of the Sea Committee the areas surrounding the Falklands, South Georgia and South Sandwich are considered under a sovereignty litigation and thus can't be included. Likewise with those areas in the extreme south Atlantic covered by the Antarctic Treaty with any claims frozen for half a century.