UK/Argentina discuss trade and business opportunities, but also Malvinas
Tuesday, March 3rd 2020 - 08:59 UTC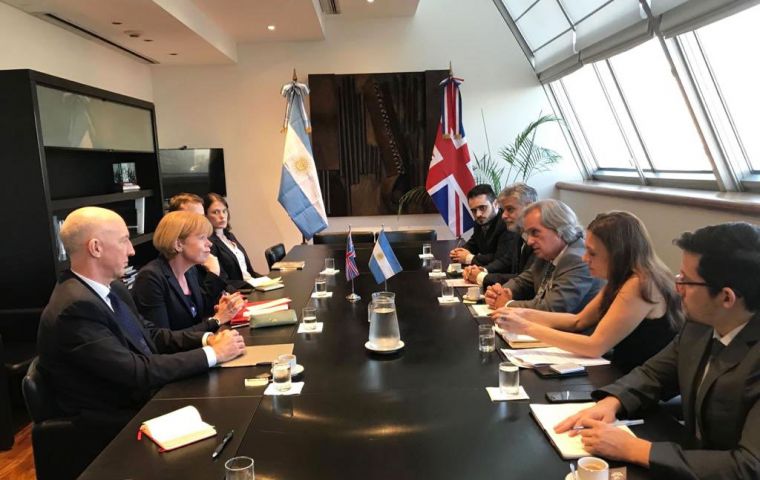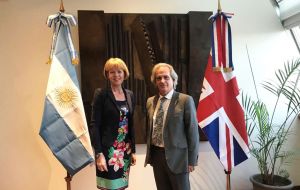 UK Deputy Foreign Secretary for Europe and the Americas Wendy Morton held on Monday several meetings in Buenos Aires with officials from the new Argentine government looking to strengthen bilateral ties as well as boosting trade and investment.
This was the first time a Foreign Office official from Boris Johnson's cabinet meets with members of the government of president Alberto Fernández, in this case with Deputy foreign minister Pablo Tettamanti and Production minister Matias Kulfas.
Although the talks were described as having taken place at protocol level, the fact is the UK has left the European Union and is looking for business alternatives and historically Argentina has always been an attractive market for British trade, investment and financial operations.
Besides Ms Morton arrived a day after president Fernandez made significant announcements referred to the new Argentine emphasis of its South Atlantic policy and sovereignty claims over the Falklands and other islands.
Argentine diplomatic sources said Ms Morton was informed of the nature and content of the three bills announced on Sunday for the long term recovery of sovereignty over the Falklands/Malvinas, which still have to be sent to congress for their approval. They refer to the creation of a wide ranging special National Council on Issues relative to the Malvinas, South Georgia and South Sandwich islands and adjoining maritime spaces.
Secondly promoting a bill to clearly outline the outer border of the Argentine continental shelf, this should contribute to consolidate sovereignty over seafloor and subsurface resources. These coordinates should help to ensure legal certainty for the awarding of concessions for the exploration and exploitation of hydrocarbons, mineral and sedentary species resources, following on the UN Law of the Sea resolutions on continental shelves, that is from mile 200 to mile 350.
Finally amendments will be introduced to the Federal Fisheries Scheme with the purpose of stricter conditions and fines on all those vessels caught illegally fishing in Argentine jurisdiction, or where Argentina has sovereignty over marine living resources, "which also includes the Malvinas Islands", according to president Fernandez speech on Sunday.
Before arriving in Buenos Aires from Montevideo where Foreign Office official Morton attended the inauguration of the new Uruguayan government, a brief message said that the purpose of the visit was to discuss the strengthening of UK-Argentina ties and working together on climate change and human rights, while also discuss boosting trade in areas such as transport, public services, oil and gas, mining, agriculture, plus financial services, insurance and public-private projects.
UK/Argentina bilateral trade amounts to US$ 1.5bn, of which US$ 1.2bn in goods.
According to Argentine sources, minister Kulfas said Buenos Aires was open to business, promoting trade, investments, a message repeated by deputy minister Tettamanti, but both insisted that the UK must also be willing to open discussions on the Falklands/Malvinas claim issue.