Mnuchin denies potential US unemployment of 20% but considers a US$ 2.000 stimulus check to every American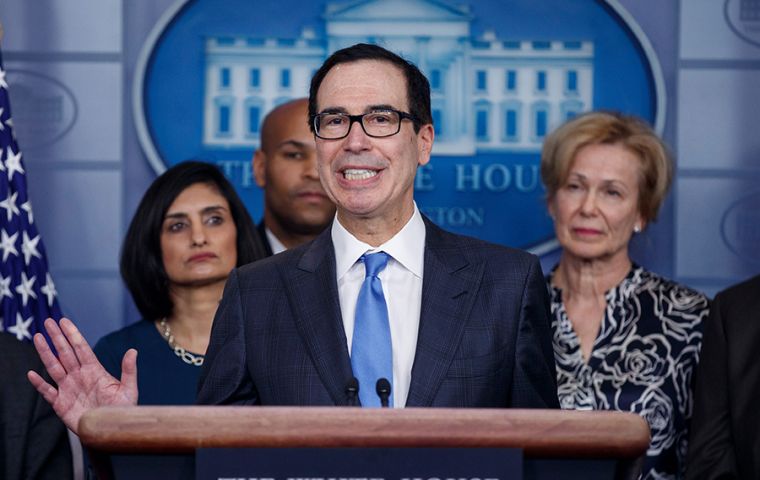 Treasury Secretary Steven Mnuchin on Wednesday vowed that unemployment would not reach 20%, seeking to clarify comments he made a day earlier on a worst-case economic scenario resulting from the coronavirus pandemic.
"I didn't in any way say I think we're going to have that. Let me be clear: If we follow the president's plan, we will not have that," Mnuchin said on CNBC.
Reports surfaced on Tuesday that Mnuchin told lawmakers that without any action, unemployment could spike from 50-year lows of 3.5% to as high as 20%. But Mnuchin said he was simply giving a mathematical example, not making a prediction.
"What I said was just a mathematical statement, which is 40% of people employed in the private workforce are employed by companies of 500 people or less. It was just a mathematical statement to say that if half of these people were to lose their jobs, this is what it would be," he said.
"But we're not going to let that happen," he added.
Asked about the comment on Wednesday afternoon, President Trump said he didn't agree with the 20% assessment. "That's an absolute, total worst-case scenario," Trump said. "We don't look at that at all. We're no way near it."
The US economy has already started reeling from the pandemic, as crucial public health measures and social distancing efforts have thrown sand in the country's economic gears, shuttering bars, restaurants, movie theaters and large sporting events.
A Tuesday analysis from S&P Global predicted that the United States may already be in a recession. Meanwhile, Congress and the White House are working on plans to put a floor under the falling economy, providing for paid sick and family leave, expanded unemployment benefits and stimulus checks for every American that could be as high as US$ 2,000.