Third-place finisher in Peru's elections wants vote count review but shall not endorse Castillo at runoff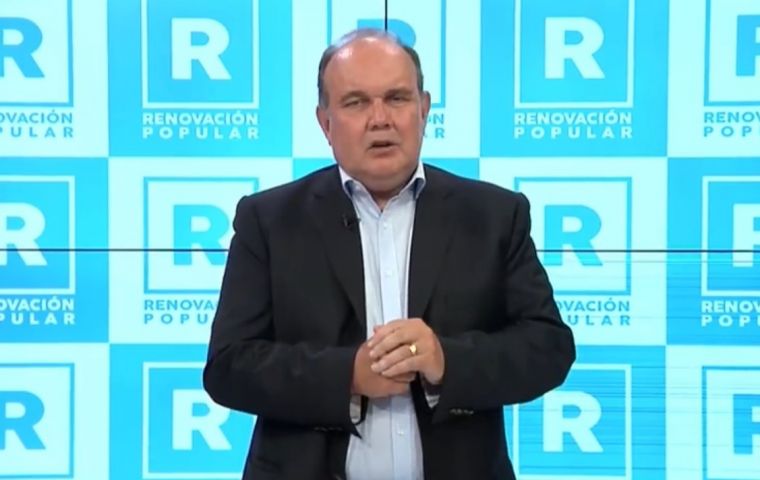 Rafael López Aliaga of Popular Renovation (Renovación Popular – a right-wing party founded in 2020), who finished third in Sunday's first round of Peru´s presidential election with 11.69% of valid votes, behind Pedro Castillo (19.12%) and Keiko Fujimori (13.37% ) has requested Thursday the revision of all the voting records but warned he will not support "Communist" Castillo at the June 6 runoff.
Meanwhile, Prime Minister Violeta Bermúdez, downplayed the allegations of foul play by the far-right López Aliaga, claiming it was a clean, fair and transparent process. "All reports indicate that they have been clean, fair and transparent elections," said the Prime Minister. "I believe unnecessary noise should not be generated about an electoral process carried out despite the great problems our country is facing," she added, although she admitted there differences from previous polls because of the coronavirus pandemic and the security protocols.
Peru's National Office of Electoral Processes (ONPE) described as "false news" a version that circulated on Twitter about alleged inconsistencies between the number of votes recorded in some physical records and the online records.
López Aliaga is "a member of Opus Dei with great honour" and that is why he practices celibacy and mortification and proposed in the campaign "to expel Venezuelans "Residents in Peru because they "commit crimes "and" take away your peace.
Regarding Fujimori, the anti-corruption prosecutor José Domingo Pérez expressed his concern about the postponement that the judicial investigation to which it is being subjected would suffer if she were elected president. "I understand that the judge will have to apply Article 117 of the Constitution that guarantees immunity in the process (to Fujimori) and the case against her, that is, the trial against her would be restarted when her presidential term of office ends (in 2026), should she be elected," said Pérez.
Fujimori is under investigation for money laundering through irregular contributions from the Brazilian construction company Odebrecht to her electoral campaign in 2011, and for which she was in prison three times.
Pérez also said he was also concerned about her family, those involved in complaints against Fujimori, such as prosecutors, witnesses and effective collaborators, the latter providers of information of key importance to the process. According to Pérez, Fujimori and her party "have engaged in conduct against the normal development of a criminal process," by manipulating and pressuring witnesses, interfering in investigations and using political power as an obstacle to the investigations. He also worried following the appearance of a recent video in which Fujimori accuses him of acting politically against her.
Prosecutor Pérez is charging Fujimori with money laundering crimes, for secretly receiving millions of dollars for her electoral campaigns of 2011 and 2016 and masking them as if they were many small false contributions from citizens, of obstructing justice and leading a criminal organization. The accusation includes 39 other defendants, among them, her American husband, Mark Vito. Pérez also calls for the dissolution of the Fujimori party, Popular Force, because it was turned into a criminal organization.