Drug gang violence results in 9 deaths in Colombia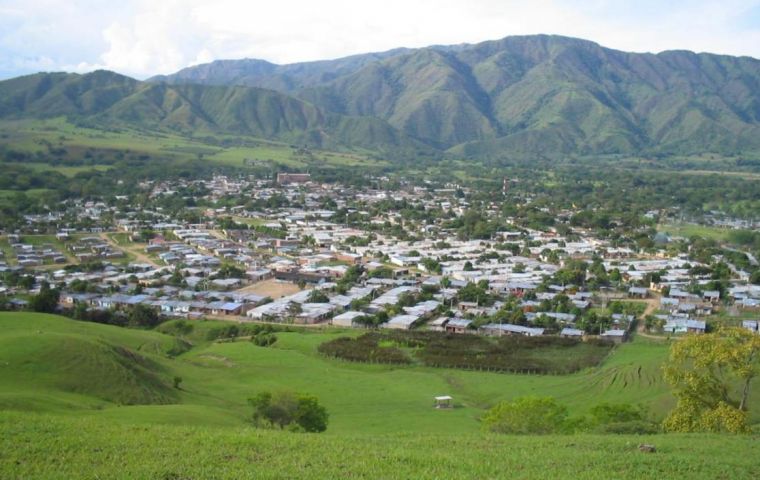 Nine people died Monday after armed men broke into a coffee farm in the municipality of Algeciras, in southern Colombia, and "ended the lives of eight men and one woman," the Ombudsman's Office reported. The victims were coffee pickers, it was informed.
The NGO Indepaz also revealed the same farm had already been attacked last year when seven people died, including two children. Indepaz said that following Monday's actions the total number of similar killings has reached 41.
The area is the battleground for dissidents of the peace agreement signed by the FARC guerrillas in 2016, drug gangs and ELN guerrillas fighting over drug trafficking revenues.
The region has also been affected by the social outbreak that has shaken the country for a month and that leaves at least 59 dead and for which the Government of President Iván Duque must testify before the Parliament.
In addition to massive marches led by young people who protest against police brutality and demand a more supportive state in the face of the economic ravages of the pandemic, the country is experiencing a serious upturn in violence in rural areas. Duque blames groups that finance themselves for drug trafficking and illegal mining.
Meanwhile, Interior Minister, Daniel Palacios, and Foreign Minister Marta Lucía Ramírez are to appear Tuesday before the Senate to account for recent cases of violence and abuse. Palacios is to be questioned about human rights violations by public order forces in the context of the demonstrations that have shaken the country since April 28 and about actions undertaken in the aftermaths of those events to prevent any further unlawful doings as well as about the implementation of the 2016 Peace Agreement regarding social dialogue and security.
And Ramírez is to address the global condemnation of the government's actions and their consequences.
After more than a month of protests, several human rights organizations have registered, in addition to the deaths, thousands of wounded, arbitrary detentions, disappearances, and rapes, all perpetrated by law enforcement agents, particularly the infamous Anti-Riot Mobile Squad (Esmad).