Three Mapuche suspects captured in Argentine province of Neuquén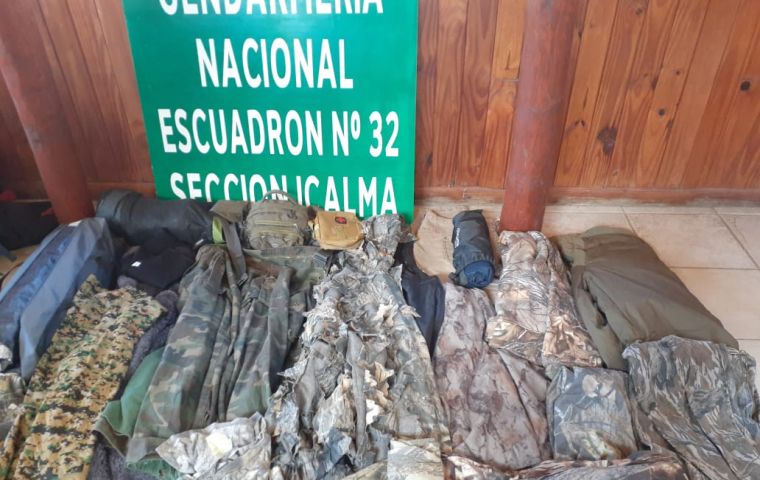 Three people were captured at Cerro Mahuida in the Argentine province of Neuquén by Argentina's Gerndarmería Nacional (Border Guard) for carrying ammunition and camouflage clothing through a non-authorized border crossing, it was announced Sunday.
Two of them were expelled back to Chile while the remaining other was allowed to stay because he had dual citizenship, it was reported.

Argentina's Security Minister Aníbal Fernández made the announcement Sunday through his Twitter account. He said the suspects were carrying ammunition and camouflaged military-style clothing in a car that was passing through a non-authorized crossing in the province of Neuquén, near the border with Chile.
The Gendarmerie operation was carried out Saturday. "Yesterday, a Gendarmerie patrol stopped in Cerro Mahuida (Neuquén) a vehicle with 3 Chilean citizens carrying 62 357-caliber ammunition, 101 22-calibre ammunition, various cartridges and camouflaged military-type clothing, passing through a non-authorized passage," Minister Fernández wrote.
Fernández's also explained, "the Customs Administrator decides to seize all the merchandise and the immigration officials decide to expel Chilean citizens to their country of origin."
"When coordinating with Chilean authorities, they request reinforcements from police officers for security at the border crossing on the Chilean side, one of the detainees being a Mapuche activist. 2 were expelled via Pino Hachado, the third Migrations allowed their permanence due to dual nationality," the minister went on.
The operation came after Fernández met last week in Buenos Aires with Chile's undersecretary of the Interior, Juan Francisco Galli to coordinate efforts to handle the Mapuche conflict on both sides of the border.
"We coordinate progress in measures to confront violence and organized crime in the southern macrozone of Chile and Argentina," said Galli through his Twitter account, as the Mapuche conflict escalates.
A video of the Weichan Auka Mapu group was released portraying some 30 of its members with weapons and their faces covered demanding Chilean President Sebastián Piñera to stop militarizing the region.
In Argentina, several arson attacks were recorded in various parts of the Río Negro province and Gendarmería federal troops were sent to the area.