Mudslide in Venezuela leaves dozens dead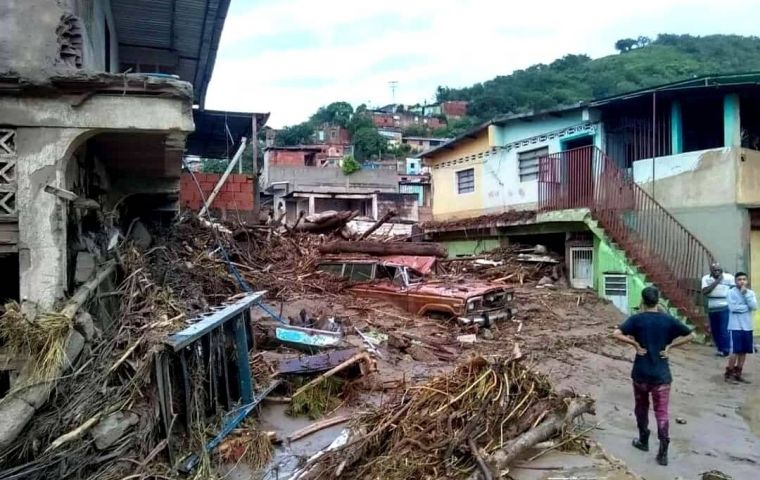 At least 22 people have been reported to have died in the Venezuelan town of Las Tejerías, in the central State of Aragua while more than 50 others were missing following a mudslide after heavy rains.
"There was a big landslide in the central area of Tejerías, El Béisbol sector. Five streams overflowed and we are seeing very important affectations. Human losses. So far we have found 22 people dead and 52 people are missing," Executive Vice President Delcy Rodríguez explained. She added that some children were among the victims.
"President Nicolás Maduro has decreed this area of tragedy and has also decreed three days of mourning for the loss of Venezuelans that we have had in this area," she also pointed out.
"There is a search front where all the security agencies, the Bolivarian National Armed Forces, are active in the search of the rivers, there are people who are still walled up," Rodríguez also explained. "We are trying to rescue those we can rescue alive and we extend our condolences to all those families who have lost a loved one," she went on.
Rodríguez also noted national authorities were "attending to the people who were left without homes or whose homes were affected by this landslide, and to those who lost their implements."
"We are setting up shelters in the state of Aragua. This great landslide had never happened before in this area, but more than 5 streams overflowed and the President has been alerting the population," Rodríguez said while announcing the government would "remain active here, [because] there are also material losses, merchants whose facilities, commercial premises and farmers who lost their crops were absolutely walled up," while "public banks will be providing support to the people who were economically affected."