Two US cruise passengers drown during a Zodiac excursion in Antarctic waters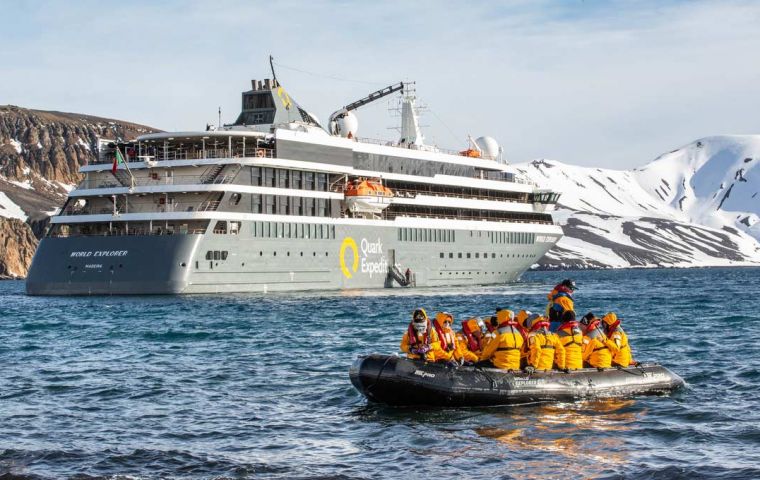 Two United States cruise passengers drowned in Antarctica during a tour in a semi-rigid inflatable Zodiac boat, which capsized for reasons still to be determined. Fortunately, other passengers on board were rescued on time from the frigid waters.
The two Americans, 76 and 80 years old, were passengers on board the World Explorer a Portuguese cruise liner which specializes in Antarctica tours and operates from Ushuaia in Tierra del Fuego.
The incident forced the cruise vessel to immediately return to Ushuaia where it arrived in the early dawn of Sunday. An investigation has started to determine the causes of the accident and the death of the two passengers. The case in led by Federal Magistrate Federico Calvette and prosecutor Juan Soria.
The investigation will be supported by the Argentine Coast Guard, and the court also ordered the autopsy of the two bodies.
The 126 meters long World Explorer has a capacity for 176 passengers and all cabins are looking out to the sea, some of them have individual terraces.
In related news the Chilean Air Force was involved in an Antarctica medical evacuation operation of three people at its landing strip in the President Frei Montalva Base
The operation in a Hercules C 130 took off late Sunday night and arrived in Punta Arenas early dawn with three injured persons, a Chilean, a Uruguayan and a Korean citizen.
The Chilean is a crew member of the ATF Galvarino, a Chilean Navy tug on Antarctic patrol, who suffered acute appendicitis; the second fellow belongs to a Uruguayan Antarctic base and had a broken leg while the Korean had a serious column injury. He is a member of the Korean King Sejong Station.