Activity at Villarrica volcano warrants upholding yellow alert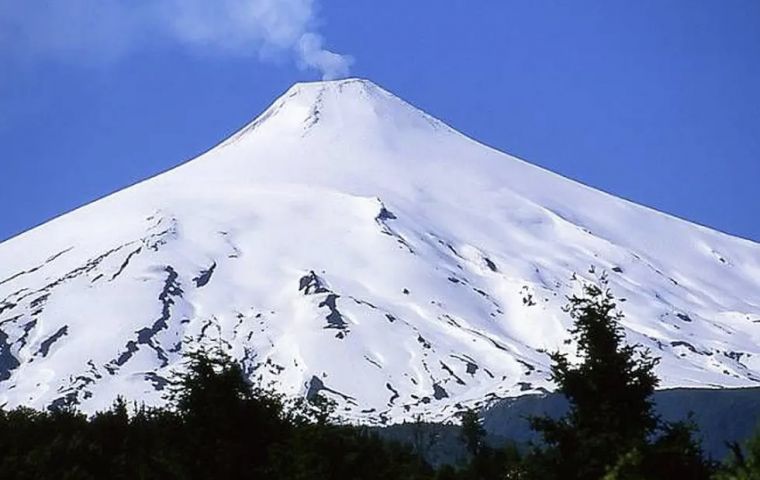 Authorities remain on yellow alert regarding the Villarrica volcano after a seismic episode was recorded at 1.07 pm local time on Jan. 1 which was directly linked to the movement of internal fluids, according to monitoring stations
During most of 2022, the Villarrica volcano was the center of attention of geologists from Chile and Argentina due to its intense activity, which remained unchanged with the turning of the year when Chilean geologists reported a a "long period (LP)" earthquake that was announced from a new Special Report of Volcanic Activity (REAV) of the National Service of Geology and Mining (Sernageomin), which set off the alarms of the monitoring centers, and which would also signal that the new event was related to the internal fluid dynamics of the Villarrica volcano in La Araucanía region.
The earthquake recorded at 1.07 pm Jan. 1 is directly associated to the movement of internal fluids that had a reduced displacement of 50.74 cm². "No surface activity could be observed due to the meteorological conditions at the time," the experts said.
Several adjacent localities are under yellow alert since Nov. 8 due to the volcano's "anomalous behavior in levels above the base threshold understood as instability."
Chile's National Emergency Office of the Ministry of the Interior (Onemi), which starting in 2023 will be renamed National Service for Disaster Prevention and Response (Senapred), explained that "the communes of Villarrica, Pucón and Curarrehue in the Region of La Araucanía and the commune of Panguipulli in the Region of Los Ríos maintain the Yellow Alert."
Meanwhile, volcano expert Alberto Caselli said in a radio interview that "there is volcanic seismicity and low activity of the volcano, where the magma column rises and remains near the surface." He also explained that when the column rises, it lodges near the crater and forms a lava lake. "The gas bubbles that rise explode and throw material."
In his view, after the earthquake in Chile with a magnitude of a little more than six points, "a dissipation was generated in the tectonic plates, which made the magmatic chambers have more space, and generate an overpressure in the gases that with time are making their way to the surface."
"The Villarrica always has this type of eruptions, what we call a basic volcanism, just like the Copahue," said Caselli. "The activity is very low and if the amount of seismic energy does not increase, it does not give for much more", he added.
In addition, the volcanologist explained that it has a very high height, "for now it affects 150 meters around the crater". "It does not generate greater concern because it is monitored, if they see that there is an increase of energy surely clear people who are near the volcano," he added.