Evo Morales banned from entering Peru for persistent meddling in local issues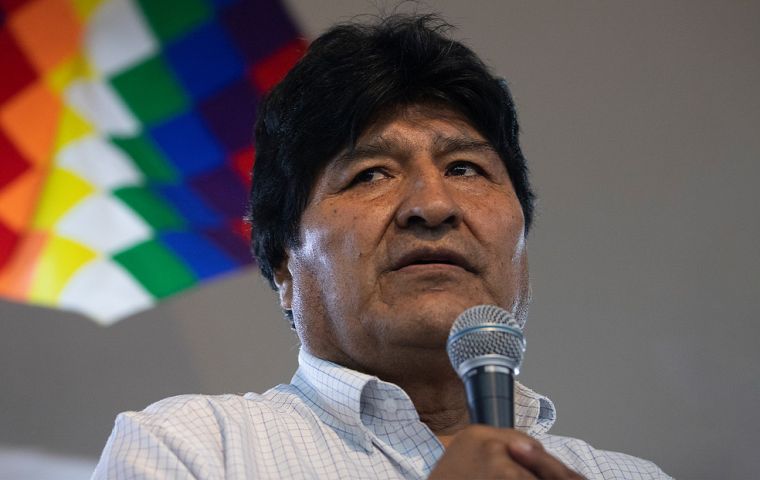 Peruvian authorities have banned former Bolivian President Evo Morales from entering the country due to his persistent meddling in internal affairs, it was reported Monday in Lima.
"It was ordered the registration of the impediment of entry into the country, through all immigration checkpoints, of nine citizens of Bolivian nationality, including Mr. Juan Evo Morales Ayma," the Interior Ministry said in a statement.
"In recent months, foreign citizens of Bolivian nationality have been identified as having entered the country to carry out political proselytizing activities, which constitutes a clear affectation of our migratory legislation, national security, and the internal order of Peru," the ministry added.
Morales had an active presence in Peruvian politics under former President Pedro Castillo Terrones (July 2021 - December 2022). After Castillo's Castillo's fall, the Bolivian leader expressed his support for protests, especially those taking place in Puno, the Peruvian Aymara region bordering Bolivia.
President Dina Boluarte had asked Morales to refrain from participating in Peru's internal affairs and said that immigration authorities were considering banning him from entering Peruvian territory.
Monday's announcement was also grounded on national security concerns, because Peru "is a sovereign and democratic country, whose migratory system establishes that all foreign citizens in the national territory have the duty to conduct themselves in compliance with the legal system, especially about national security and the internal order," the statement also pointed out.
"In Peru, we have the right to weave our own history and that no one, people outside the national territory, should have to be coming and want to intervene in weaving our history," Boluarte had said.
In November 2021, the Congressional Foreign Relations Committee declared Morales persona non grata "for his negative political activism in Peru and his evident interference and meddling in the agenda of the government" of then-President Castillo.
Morales was also denounced last Thursday before the Peruvian Prosecutor's Office by the ultraconservative congressman Jorge Montoya, for allegedly committing crimes against national security and treason, in the form of an "attempt against national integrity."
The former Bolivian leader had been pushing for some of Peru's regions, particularly Puno, to join his Runasur project binding together social and indigenous movements. He has also been quite vocal in his defense of Castillo, who was impeached on Dec. 7 after trying to dissolve Congress and rule by decree.
The ensuing protests have left at least 28 people dead.
Regarding Boluarte's remarks, Evo said he would "turn the other cheek" while calling for massacres of pro-Castillo protesters to stop. "The only separatism in Peru is caused by racism, exclusion, and discrimination by Lima's power groups against their own people," Morales said during the weekend.