Evo declared "persona non grata" by Peru's Congress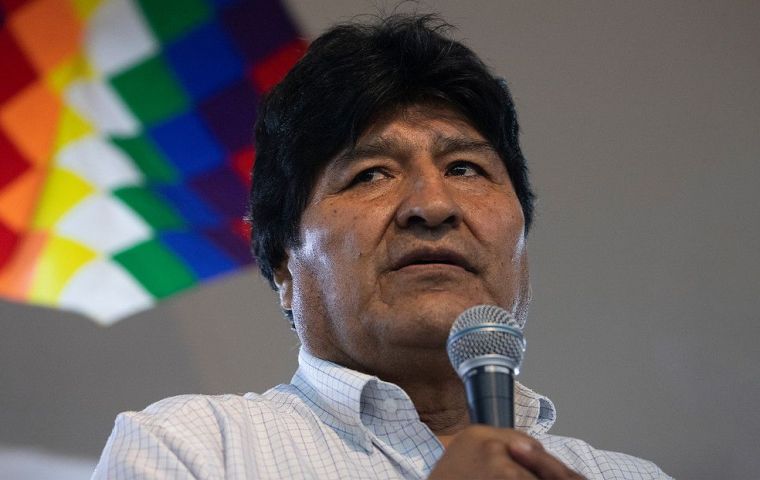 Peru's Congress Thursday declared former Bolivian President Evo Morales "persona non grata" by 74 votes in favor, 40 against, and 4 abstentions, for his alleged meddling in internal affairs.
Morales had been banned from entering Peru earlier this month for the same reason together with eight other Bolivian nationals who were said to have engaged in activities "of a proselytizing nature," apparently in support of the deposed Peruvian President Pedro Castillo Terrones, who was impeached on Dec. 7 after trying to dissolve Congress and rule by decree.
"To declare Mr. Evo Morales Ayma persona non grata in the national territory, for his constant incitements in national politics, the same that seek to unbalance the internal order of the country, especially the southern zone of Peru," reads the Congressional decision against Morales for his "undue interference" in local matters.
In addition to his travel ban, the former Bolivian president had been stripped of a Peruvian Congressional award.
Morales, who is believed to be encouraging mobilizations in southern Peru and promoting separatism, said he will not get tired of denouncing the "grave violations" of human rights suffered by the Peruvian population under President Dina Boluarte.
"The attacks of congressmen who justify the bloody repression against their people in order to cling to power confirm to us that we are on the right side of history; we will not tire of denouncing the serious human rights violations suffered by our Peruvian brothers (sic)," wrote Morales on social networks.
The former Bolivian President has appointed lawyer Raúl Noblecilla Olaechea to represent him in the case for the alleged crime of attack against national integrity. Noblecilla is a former Deputy Minister of Territorial Governance under Castillo and used to be Castillo's lawyer as well after he was arrested and imprisoned following his attempted coup d'état.