Gen. Stevenazzi becomes new Uruguayan Army chief
Thursday, February 2nd 2023 - 10:06 UTC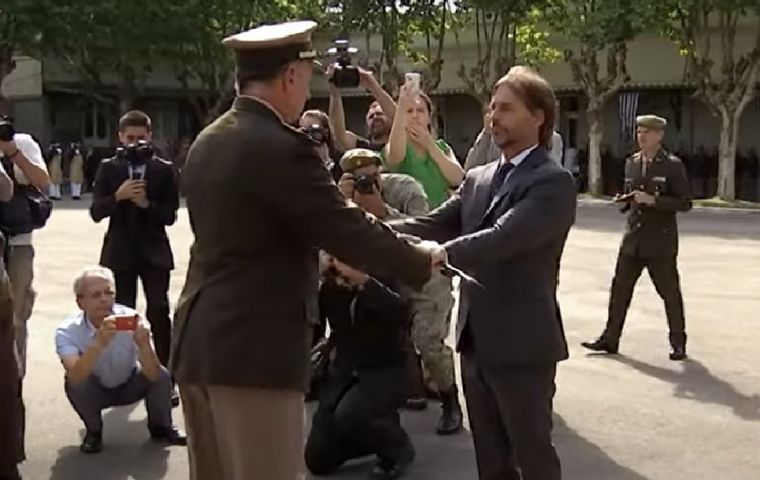 Gen. Mario Stevenazzi Wednesday took over from Gen. Gerardo Fregosi as head of Uruguay's Army during a ceremony at the Army headquarters in which Defense Minister Javier García praised the force's work during the Covid-19 pandemic and in other matters of national sovereignty.
Also attending the occasion were President Luis Lacalle Pou, Vice President Beatriz Argimón, and other members of the ministerial cabinet.
García also pointed out that Fregossi went into mandatory retirement due to his age and recalled that his replacement was a discretionary decision of the Executive branch. President Lacalle understood that Stevenazzi was the right person to lead the force at this moment, García also explained. The National Army is a bicentennial institution that continued the doctrine of independence hero José Gervasio Artigas, he also noted.
Stevenazzi said that armies were modernizing in a world where threats were changing, but the soldier remained an irreplaceable and fundamental link in the system for the fulfillment of the objectives. He or she is "a person who while in service dedicates his life to the fulfillment of his duty," the new Army chief outlined. He also expressed that it is "the responsibility of every leader, at all levels," to maintain the high standards of training of human resources, "sharpening the ingenuity and inventiveness to make up for shortcomings."
President Lacalle Pou gave Stevenazzi a replica of José Artigas' saber during the event, marking his condition as the new Army chief, for which he was chosen for his knowledge and background at home and abroad in military and also in diplomatic missions as an attaché.