Peru lifts state of emergency in Lima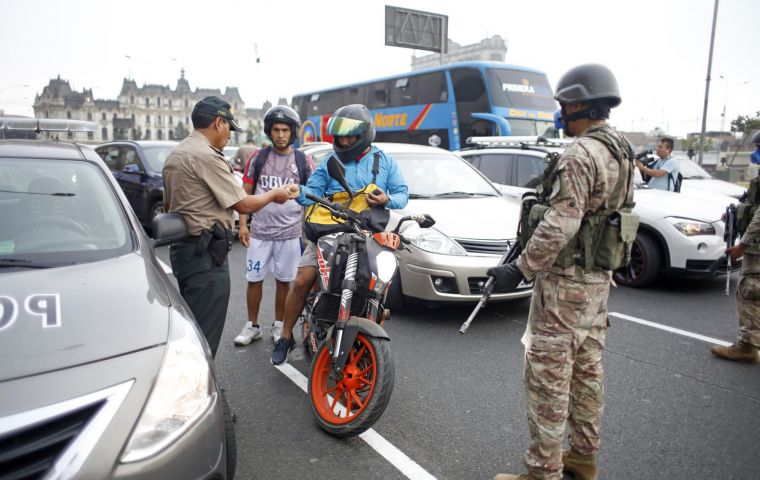 The Peruvian Government Thursday lifted the state of emergency decreed in Lima amid mounting violence since the Dec. 7 impeachment of then-President Pedro Castillo Terrones, Prime Minister Alberto Otárola announced. Castillo's government had also decreed a state of emergency in Lima and its neighboring province of Callao to combat crime.
Otárola explained that such a decision had been made in view of the downward trend of anti-government protests, but the conditions were not the same in the province of Ica and on some highways where such restrictive dispositions remained in force.
"It has been agreed in the Council of Ministers to lift the state of emergency in the department of Lima. This is a very important measure for the full exercise of the fundamental rights of the citizens," Otárola told reporters.
The Prime Minister added that this decision was taken because "the conditions and considerations" that led the Executive to establish this measure in Lima, where almost a third of the country's population lives and where hundreds of citizens from other regions traveled last February to protest against the administration of President Dina Boluarte, have already subsided.
But the Council of Ministers also approved a supreme decree extending the state of emergency in the Lima-bordering province of Ica, and some highways of the national road network.
In Ica, "there is still additional security and development work", while the extension of the measure on highways "will allow the National Police to continue maintaining order and unblocking roads as it has been successfully working in the last weeks," Otárola also pointed out.
During the state of emergency, constitutional rights relating to the inviolability of the home, freedom of transit through the national territory, freedom of assembly, and personal freedom and security are restricted or suspended, and the Peruvian National Police (PNP) maintains internal order, with the support of the Armed Forces. However, in the case of the southern region of Puno, bordering Bolivia and a stronghold of the demonstrations, control is assumed by the military.
Since Dec. 7, 76 people have died in violent events. Most victims were demonstrators who clashed with law enforcement forces.