Chikungunya: 43 deaths and 11,467 cases confirmed in Paraguay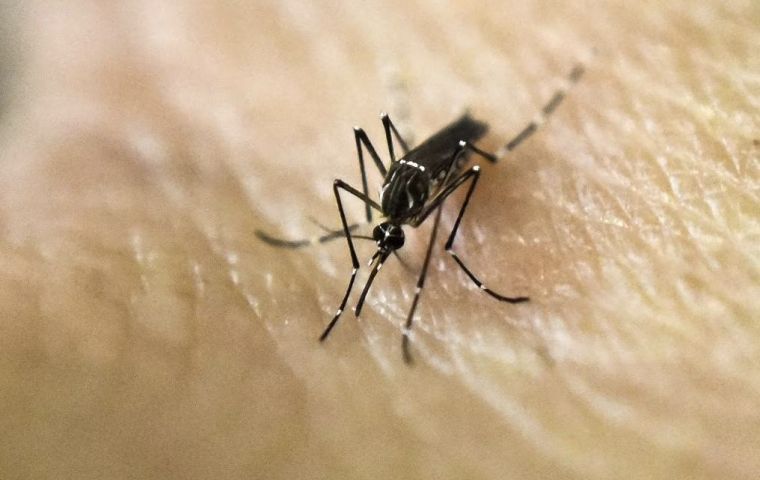 Paraguayan health authorities Friday confirmed 43 people had died nationwide of chikungunya, while the total number of cases rose to 11,467 over the past three weeks. Eight of the victims were children under one year of age, while 35 others were adults aged over 30, according to the latest epidemiological report released by the General Directorate of Health Surveillance. "The mortality rate is 0.6 per 100,000 inhabitants and the case fatality rate is 0.1 %," the document read.
The disease, which concentrates most infections in the Central department and the capital Asunción, has spread to other regions of the country such as the departments of Alto Paraná, Amambay, Guairá, Concepción, and Ñeembucú. Most people infected with this viral disease transmitted by the Aedes aegypti mosquito are predominantly women (58%), the Health Ministry's agency said. At least 39 cases have been reported in pregnant women.
According to the Hospital Central del Instituto de Previsión Social (IPS), about 30% of its staff is on bed rest after being diagnosed with chikungunya.
"We estimate that 30 % of our staff is affected by this pathology that really produces an absence from work due to pain and joint inflammations that produce practically an inability to perform daily tasks," Hospital acting spokesman Guido Zárate said in a TV interview. This situation generates an "overload of work" for the rest of the staff, Zárate also explained.
Chikungunya infections began to increase by the end of September 2022 in Paraguay, which declared on Feb. 24 that it was on alert due to the "atypical clinical and epidemiological behavior" of chikungunya in the country.
The Pan American Health Organization (PAHO) issued an epidemiological alert on Wednesday due to the increase in cases and deaths from chikungunya in the Americas and urged member countries to "intensify actions to prepare health care services, including the diagnosis and management of cases."
"These increases in the number of chikungunya cases and deaths above those reported in recent years are in addition to the simultaneous circulation of other arboviruses, such as dengue and Zika, impacting on the overload of health care services," reads a report released by PAHO.