Declaration of Santo Domingo supports Argentina's claim over South Atlantic islands
Monday, March 27th 2023 - 10:28 UTC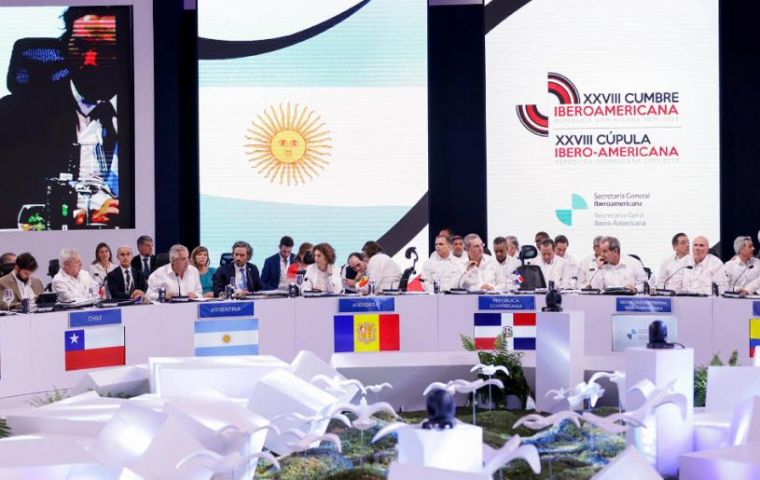 The XXVIII Ibero American Summit -the first to be held on-site after the Covid-19 pandemic- concluded Saturday with the so-called "Declaration of Santo Domingo" whereby the group reportedly supported Argentina's claim to the Falkland/Malvinas Islands together with other issues such as gender equality, energy transition, and the promotion of Spanish / Portuguese bilingualism.
The document also featured collective appeals to the development of landlocked countries, the recovery of tourism, the traditional use of coca leaf chewing promoted by Bolivia, the sustainability of the oceans, and the further development of ties between Ibero-America and the European Union (EU).
On the event's closing day, it was also announced that the next gathering will take place on Nov. 29, 2024, in Quito, after Ecuador took over the pro-tempore presidency of the group. Ecuadorian President Guillermo Lasso said that his country would focus on promoting alternative economies, food security, and efforts to mitigate the impacts of climate change and ensure more effective protection of the environment.
Lasso also spoke of the fight against transnational crime, joint work on migration issues, and the multidimensional crisis Haiti is going through.
The Declaration also addressed issues such as food security, digital transformation, and financial architecture. The Ibero-American cooperation action plan for 2023-2026 was also approved.
Dominican President Luis Abinader explained that the Ibero-American Charter of Principles and Rights in Digital Environments, the Ibero-American Environmental Charter, and the Critical Route to achieve inclusive and sustainable food security in Ibero-America were also approved.
Ibero-American Secretary General Andrés Allamand of Chile underscored the importance of the commitment of all nations to double down their efforts to help Haiti overcome its current crisis and stressed that the Declaration of Santo Domingo laid the foundations for strengthening the community made up of the twenty-two countries of the region.
In Allamand's view, the Declaration "implies maintaining Ibero-America as a privileged space for dialogue, political articulation, consensus, and cooperation."
Allamand stressed that the document reinforces "three fundamental pillars", among them the generation of rights, the creation of opportunities, and the incorporation of new actors. Under these principles, the Declaration of Santo Domingo approved the four instruments on which this summit was built.
In line with the incorporation of new actors, the Community of Portuguese-Speaking Countries (CPLP) was admitted as a consultative observer to the Ibero-American Conference.
With this, the bloc of twenty-two countries reinforces a group of eighteen high-level international and multilateral organizations and twelve "associate observer" countries from all continents that were already observers of the Ibero-American bloc.
For Allamand, these agreements demonstrate "a unity that does not crack in the face of differences".
The Quadrennial Action Plan for Ibero-American Cooperation (PACCI) 2023-2026 is focused on strengthening regional cooperation action with new areas to accelerate compliance with the 2030 Agenda for Sustainable Development.