Macri will not be running again for president of Argentina in 2023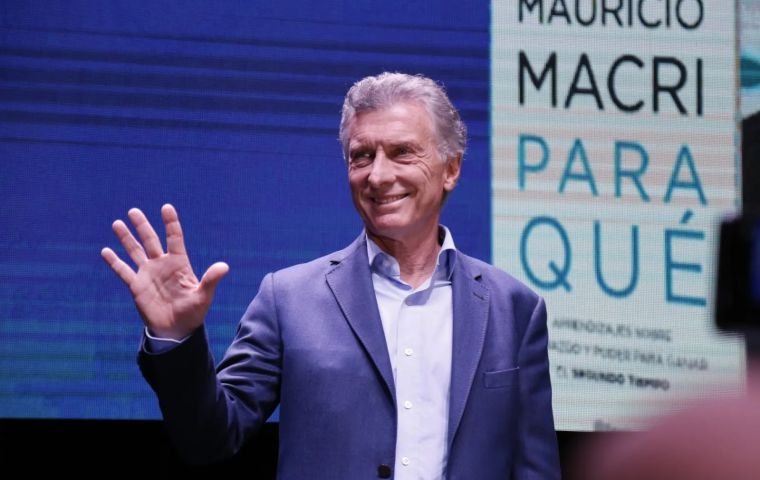 Former Argentine President Mauricio Macri Sunday announced through a video posted on social media that he will not be making a new attempt to reach Casa Rosada this year.
After his message, Buenos Aires Mayor Horacio Rodríguez Larreta and Propuesta Republicana (PRO) Chairwoman Patricia Bullrich were left the main contenders for the opposition coalition Together for Change (Juntos por el Cambio - JxC) primaries, where also former Buenos Aires Province Governor María Eugenia Vidal (PRO) and Jujuy's current Governor Gerardo Morales (Radical Civic Union - UCR) will also participate.
"Mauricio Macri's historic decision confirms his greatness and generosity. Even though he could become president again, he has prioritized the interests of our country before his own, as very few leaders have done in Argentine history." Bullrich said on Twitter.
"Once again and as he has done throughout his life, Mauricio Macri makes a decision that makes clear his enormous vision, his generosity, courage, and love for Argentines," Larreta posted on the same social network.
"As Mauricio says, this dark time is ending and we are going to leave it behind forever. We Argentines are going to get ahead," he added.
Macri's decision reportedly boosted President Alberto Fernández's intentions to seek reelection. Fernández arrived in New York Sunday and is due to meet with US President Joseph Biden later this week. He is expected to try to capitalize on that encounter for his political campaign later this year.
It remains to be fathomed how Macri's withdrawal will play regarding Vice President Cristina Fernández de Kirchner (CFK) and her previous messages that she would not be running for any office because she has been disenfranchised after being sentenced to six years in jail for corruption. The truth is that such a conviction would indeed ban her from seeking office were it not open to appeals.
According to a political analyst in Buenos Aires consulted by MercoPress, Bullrich, the former security minister who presently holds no office, would beat Larreta in the JxC primaries. Surveys in this regard are expected to be published over the next few days.