ARA Irízar off to final stage of Antarctic campaign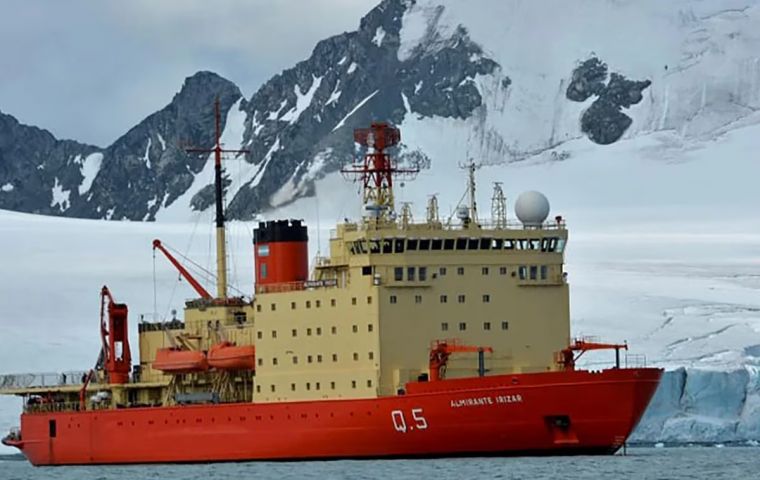 Argentine Navy icebreaker ARA Almirante Irízar Captain Carlos Recio announced that the unit had "complied with all the tasks emanating from the operations order of the Joint Antarctic Commander, also carrying out more than 600 movements of scientific and military personnel between the different joint Antarctic bases" and was therefore on her way to the last stage of the "Antarctic Summer Campaign (CAV) 2022/2023," it was reported.
The Irízar carried out resupply and equipment control tasks in the capital of Tierra del Fuego, before embarking on a new voyage to the bases San Martín, Marambio, Esperanza, Petrel, Carlini, Orcadas, and Decepción to bring supplies and remove waste, in addition to the usual staff deployments.
In Ushuaia, the Irízar made a "logistic bridge" with the ARA "Canal Beagle" transport, which transferred the necessary cargo for its next activities. Some 250,000 kilos of general cargo (construction materials, paints, and furnishings for a multidisciplinary Antarctic laboratory, among others), in addition to 120,000 liters of fuel (Antarctic diesel oil and gas pipes), and 40,000 kilos of food were transferred to the icebreaker during the tasks in the port of Ushuaia, Telam reported.
The Irízar also unloaded Antarctic waste and other materials to be treated or transferred to the city of Buenos Aires, according to the Navy's official website, Gaceta Marinera.
The ship sailed 7200 nautical miles for 52 days during her participation so far in the second stage of the CAV, reaching the Belgrano II base, the southernmost in the country, where supplies (including scientific material, fuel, lubricants, refrigerated food, construction material, and general cargo) were delivered with support from two Sea King helicopters of the Second Helicopter Aeronautical Squadron of the Argentine Navy. Also in Belgrano II, the removal of all the so-called "historical waste" was completed, a task that had been postponed for many years, "thus fulfilling a key demand for that base, which favors its organization and operation in terms of pollution control," according to Gaceta Marinera.
(Source: Telam)