Peru sends troops to Chilean border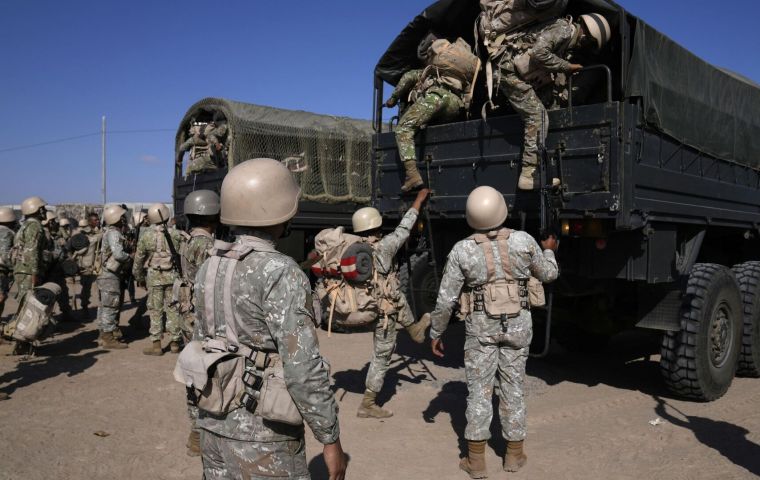 The Peruvian Government of President Dina Boluarte Friday sent troops to the southern region of Tacna, bordering Chile, to support the National Police (PNP) handle the migrant crisis, Defense Minister Jorge Chávez announced.
"Our action is from 100 meters from the border line backward establishing patrols in critical points where the illegal entry of migrants is verified," Chávez said in a radio interview. He "flatly" ruled out a militarization of the border and insisted the troops' mission will be exclusively to support the Police.
Foreign migrants have been stranded between the Chilean border of Arica and the Peruvian border of Tacna, waiting, they claim, to be able to cross to their respective countries of origin and other destinations.
This measure comes after Peru declared last Wednesday a state of emergency in the departments of Tumbes, Piura, Cajamarca, Amazonas, Loreto, Madre de Dios, and Tacna, with which the Armed Forces were empowered to support the PNP and "preserve internal order."
"The deployment of the operational force is approximately 196 members of the armed forces, including members of the air force that will carry out a special mission on a surveillance point on the road," Chávez explained.
"We have come to verify the deployment in 12.5 km, from milestone number 1 to milestone number 15. There are twelve observation posts (for surveillance) that will be carried out jointly with our police," he added.
"We have started today, not only in the region of Tacna but in the areas where we have been assigned this responsibility through the defense sector and the joint command of the armed forces," he went on.
"We are here in the framework of the declaration of a state of emergency in which the armed forces are commissioned to provide support to our national police in the fulfillment of their institutional mission, which is the surveillance and control of borders", he also pointed out.
Interior Minister Vicente Romero went to Tacna Thursday evening to supervise the situation there, together with PNP Chief Jorge Angulo. Romero explained that both Peru and Chile were working on a humanitarian corridor, since in the area "there are women, children and elderly people" affected.
After clashes Thursday between migrants trying to cross and the PNP, Peru summoned the Chilean ambassador in Lima to express its protest "for the lack of collaboration shown by the Chilean police authorities", which, he added, has "generated the events that have occurred". For its part, the Peruvian Foreign Ministry indicated in a communiqué that it is holding working meetings with the Chilean Foreign Ministry to "find, in a cooperative manner, solutions to address in the short and medium term the critical migratory and humanitarian situation in the border area".
Read also: Venezuelan migrant crisis sparks diplomatic clash between Chile and Peru