Falklands mobile voting teams will be off this Wednesday for the Thursday by election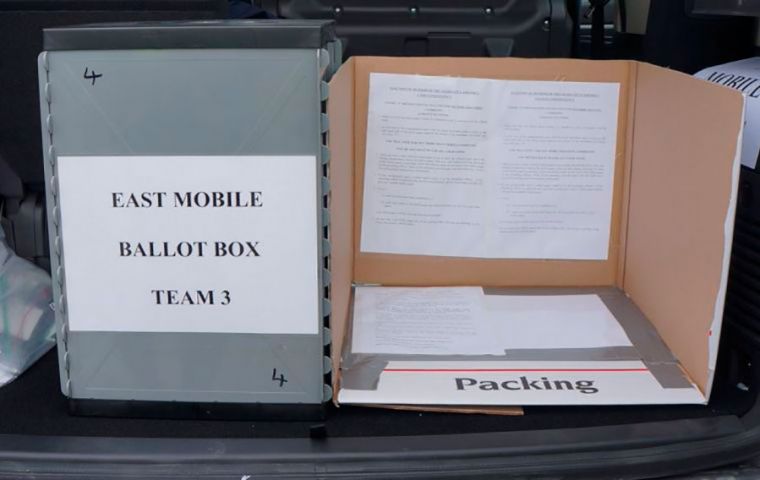 The Falkland Islands are holding a by-election on Thursday 20 September to fill the seat left vacant by veteran Member of the Legislative Assembly, Ian Hansen. Two candidates aspire to join the eight-member elected Legislative Assembly, as the third representative of the Camp jurisdiction, Jack Ford and Gary Webb.
Jack the youngest works for the Auditing department of the Falklands government while Gary is a member of FIMCO, (Falkland Islands Meat Company) team with a long experience dealing with the abattoir at Sand Bay certified to export to Europe and Halal countries, organic lamb and beef from the Falklands.
Voting day is on Thursday 21 September and there will be three main polling stations, one at the Town Hall in Stanley, from 10:00 in the morning to 16:00 in the afternoon; a second at the Social Club in Fox Bay on West Falkland, between 10:00 and 16:00 and a third at the Social Club Goose Green East Falkland at the same timetable.
But since the Camp constituency is so vast, (anywhere outside the capital Stanley) and with low population density, several mobile polling teams will be moving on Wednesday 20 September collecting votes from farmers along pre established routes.
Acting Governor, D.P. Morgan published the following in the Falklands Gazette, "In exercise of my powers under Section 59 of the Electorate Ordinance 1988, I direct the following places to be visited by a mobile polling teams,
Mobile Team, Wednesday 20/09 starting at 08:00 AM, West Falkland, starting from Port Howard (one hour and 30 minutes); T junction to Roy Cove Dunbar and Port North, Hill Cove Social Club (one hour and 30 minutes), Chartres settlement gate.
Mobile Team 1, East Falkland, Wednesday 20/09, starting at 8:00 AM from Stanley. Long Island Turn off; Brookfield Turn off; Horseshoe Bay settlement gate, Rincon Grande settlement gate, Port Louis settlement gate and return to Stanley.
Mobile Team 2, East Falkland Wednesday 20, starting at noon from Stanley. Estancia settlement gate; Riverview settlement gate; Evelyn Station and Teal Inlet cattle grid at settlement; Hope Cottage, Kings Ridge, Gibraltar Station settlement gate; Elephant Beach settlement gate; Moss site turn off; Port San Carlos Race Point and Smylies (cattle grid at the garage) San Carlos Blue Beach (Kingsford valley Wreck Point, Head of the Bay, Port Sussex) outside Blue Beach Lodge and return to Stanley.
Mobile Team 3, East Falkland, Wednesday 20/09, Stanley 8:00. Bluff Cove (Stanley Road turn off to settlement); Fitzroy turn off; Fitzroy settlement gate, Mare Harbor/Darwin Road Junction, Swan inlet settlement gate; North Arm shearing shed and return to Stanley.
Finally each mobile polling team leader will endeavor to ensure that that every place listed is visited by a team on the relevant date.
The name of the next MLA should be known as soon as the voting is over on Thursday evening..