Machado wins Venezuelan primaries by a landslide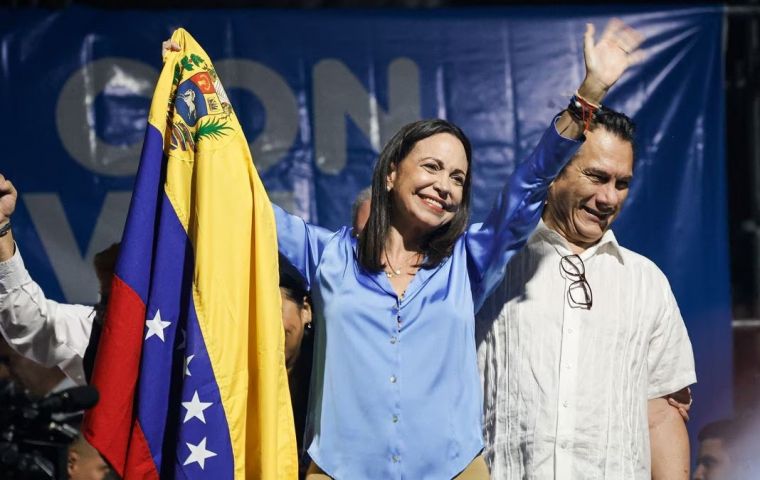 Opposition leader María Corina Machado obtained 93.13 % of the vote in Venezuela's primary elections held Sunday. According to local authorities in Caracas, the results were not released until Monday due to technology issues. Although Machado was widely expected to win, it remains to be seen whether she is allowed to run against President Nicolás Maduro, who has been in office since 2012.
Machado, of the liberal movement Vente Venezuela, obtained 93.13 % of the votes, followed by Carlos Prosperi's 4.75 %. "This is not the end, but the beginning of the end", said Prosperi, who also highlighted the fact that the process was carried out "in the face of all obstacles."
Read also: In the hope of political change in 2024, thousands vote in Venezuela's opposition primaries
Despite the additional support from Voluntad Popular of fugitive leaders Juan Guaidó and Leopoldo López are part, Machado was disenfranchised for 15 years by the Venezuelan Comptroller General's Office in June for her alleged involvement in acts of corruption (tax and fraud violations) in 2015.
Prosperi's Democratic Action (AD) underlined "the healthy development of the primary", which "was demonstrated with a multitude of Venezuelans in the streets."
"It is not true that the process is a disaster. It is not true that the centers are not working. We are seeing the reality of the country and we have to accept and accompany what the majority is expressing today," AD Party Board member Manuel Rojas Pérez said.
The primaries were held just days after the Government of President Nicolás Maduro and the so-called Unitary Platform, made up of various factions of the most radical or extreme right-wing opposition, reactivated the political dialogue process and signed in Barbados new agreements establishing "electoral guarantees for all", as well as the "protection of the vital interests of the Nation." The agreement also includes the signatories' commitment to respect each political actor's right to select its candidate for the presidential elections.
US officials have spoken in recent days about easing the sanctions against Venezuela, provided fair and free elections are held shortly. The first step would be to reverse the ban on Machado's political activities, local analysts explained.