China will participate in Brazil's next oil and gas bidding round
Friday, February 25th 2011 - 06:33 UTC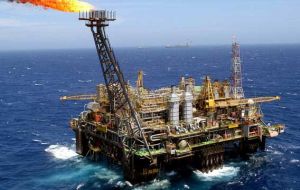 China's Sinopec Corp said it planned to participate in Brazil's next oil and gas bidding rounds, which should be resumed after the passage of a reform of the country's oil law expected this year.
Ding Jingjun, general manager of Sinopec in Brazil, said on Thursday during a presentation in Rio de Janeiro that the company was interested in teaming up with local or multinational partners to explore Brazil's massive sub-salt oil reserves.
"(Sinopec) will participate actively in bidding rounds for new exploration and production projects," Jingjun said.
Sinopec will also strengthen its relationship with Brazilian state-run energy giant Petrobras as well as seek partnerships with other multinational and local companies operating in Brazil, Ding said.
Last year, Sinopec purchased a 40% stake in the Brazilian assets of Spanish oil company Repsol-YPF.