Grondona: the only time I asked for something was for the English to return our Malvinas Islands
Wednesday, June 1st 2011 - 08:56 UTC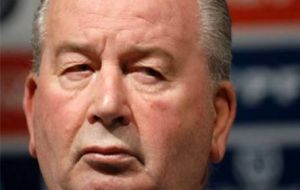 Julio Grondona president of Argentina's Football Association, AFA, and FIFA Vice-president strongly denied having been bribed to support Qatar World Cup bid in 2022 and said the only time he ever asked for something was when he told the English they could have his vote "if they returned what belongs to Argentina, the Malvinas Islands".
In full support of FIFA president Sepp Blatter, Grondona, 79, rejected English Football Federation chairman David Bernstein proposal to postpone FIFA Wednesday's election giving time for new candidates to be presented.
"I voted for Qatar because having supported the United States would have been like giving my vote for the English", said the strong-man of Argentina's football who blasted England's proposal to delay FIFA president election that has an only candidate running for re-election, Blatter.
"Before I arrived to FIFA Finance Commission the English were there, the same who are now demanding transparency. At the time FIFA had 11 million US dollars in the bank, now me an Argentine, who does not speak a word of English, has taken that sum to one billion US dollars", said Grondona.
He added that "we've distributed the money all over the world promoting football. I practice Socialism with money, which is what I like. Not Socialism empty handed that is useless", underlined AFA's president.
Grondona was also ironic by the alleged claims of corruption against FIFA made by the English Football federation; "I've never asked for something in my life, but with the English I did so: I told them 'let's put a quick end to it: you can have my vote for England (to host the 2018 World Cup) if you return the Malvinas Islands that belong to us'. They were very sad but of this they haven't said a word".
Following the vote for the 2022 World Cup, rumours abounded that Qatar had handed out 20 million US dollars in bribes to four members from FIFA Executive Committee: Grondona, Paraguay's Nicolas Leoz, Guatemala's Rafael Salguero and Cameroon Issa Hayatou. Allegedly there was also abundant evidence to support the claims.
"A few months ago it was said I had been given 78 million USD. We are still counting the bills with my wife. Now we have to count another 20 million. Look: I'm rubbing my hands, please…, it's a bit too much" concluded ironically the second man in influence in the Federation Internationale de Football Association board.