Humala reaffirms historic links: "Peru will always support Argentina"
Tuesday, June 14th 2011 - 22:39 UTC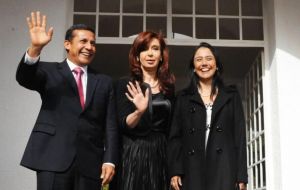 President-elect Ollanta Humala said Peru has shown "it will always support Argentina" and underlined the long standing close relations with the country that hosts one of the largest Peruvian communities overseas.
Humala met on Tuesday with Argentine president Cristina Fernandez de Kirchner in Buenos Aires as part of his round of visits to South American countries which included Brazil, Paraguay and Uruguay and will continue with Chile.
"Our countries are kindred countries", said Humala addressing Cristina Fernandez, emphasizing that "Peru has shown in the last conflicts that it will always support Argentina".
During the 1982 South Atlantic conflict Peru (declared adversary of Chile), supplied Argentina with aircraft, spares, missiles and intelligence gathering, besides previously offering to act as a mediator between the UK and the military junta ruling in Buenos Aires. Chile's Pinochet on the other hand, fearing the consequences of an Argentine victory, sided with the UK.
Traditionally Argentina and Peru have been close allies 'surrounding' Chile. Santiago historically has had excellent relations with Brazil, Ecuador and Colombia.
However in 1995, during a short lived armed border conflict between Peru and Ecuador, Argentina supplied arms to the northern neighbour. Last year President Cristina Fernandez travelled to Lima and addressed the Peruvian congress where she implicitly apologized for those actions.
The Peruvian president elect also promised "to look for the necessary mechanisms to take part in the Mercosur trade bloc committee" with the purpose of contributing with their share of solutions to common problems.
During the meeting, Mrs Kirchner and Humala analyzed social, political, economic, cultural, security and drug-trafficking related issues.
Peruvian Ambassador to Argentina Judith de la Mata Fernández and Foreign Minister Héctor Timerman were also present during the meeting.
As a result of the capital's air space being shut down by the ash cloud coming from the Chilean Puyehue volcano, Humala was forced to cross the Río de la Plata Monday night from Uruguay by ferry.
During a television interview, Humala had said that he was looking forward to expanding relations between the two countries. "We have an opportunity to improve relations; not only economically and commercially, but also culturally."
The newly elected president also underlined that over 300,000 expats reside in Argentina, making them one of the largest Peruvian communities outside of Peru.
During his short trip to neighbouring Uruguay, Humala also anticipated his plans to better integrate the political mechanisms of the Mercosur. "It's important that Peru participates in the Mercosur political mechanisms. It could help solve domestic issues," he assured