Argentine central bank purchases 500m dollars to stop appreciation of the Peso
Friday, July 15th 2011 - 06:13 UTC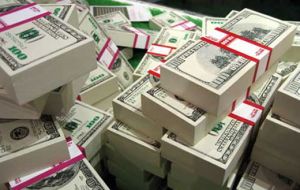 The Argentine Central bank has purchased so far this week 500 million US dollars to ensure that the country's exporters retain a favourable exchange rate and importers are not that tempted to buy foreign goods.
This is exactly the opposite to what is happening in the three other Mercosur full members, Brazil, Uruguay and Paraguay, which have been literally 'flooded' with dollars causing a strong appreciation of local currencies and a boom of impots.
Following the intervention the central bank has managed to keep the US dollar 'flat' at 4.10 and 4.15 Pesos, sale and purchase, while the local currency is not forcibly appreciated because of the influx of foreign capital, from exporters and from assets looking for better profitability than in developed countries.
Earlier this week the Central bank doubled the average amount of US dollars it was purchasing in support of the greenback. Last Friday the bank purchased 35 million dollars; on Monday, 30 million; Tuesday, 100 million; Wednesday, 180 million and Thursday, 150 million.
Market analysts said that booming commodity exports have seen a major influx of dollars together with the fact several local banks sold dollar holdings. This is linked to Argentina's inflation which according to private agents is running above 25%, more than double the official estimate.
On Thursday the official statistics office, Indec said that June consumer inflation had increased 0.7% over May. On Wednesday the so called Congress inflation index, (an average of private estimates), was released at 1.52%.
"The lack of liquidity has made several banks to change their strategy and come out looking for pesos and getting rid of dollars" said Claudio Burelli from a local foreign exchange house. "Inflation makes money loose value and as consumers demand more pesos, the market can fall short of bills".
Burelli anticipated that the Argentine central bank will continue intervening in the market to ensure the US dollar does not fall. "The strategy of sustaining the dollar will continue until at least the (October) presidential election. The bank will buy and sell whenever needed to ensure a stable market. The bank has sufficient reserves (59 billion dollars)".
Analysts also forecast that the bank will appreciate the value of the US dollar at the rate of 2 cents per month, so that by the end of July the greenback will be selling at 4.16 Pesos and in August at 4.18 Pesos.
Meanwhile in the so-called parallel (black) market the US dollar was selling at 4.29 Pesos.