FIFA warns Brazil about 2014 World Cup delays: "not a day to lose"
Wednesday, November 9th 2011 - 07:14 UTC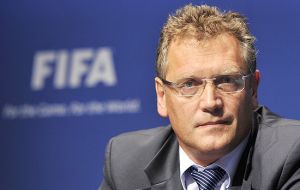 Brazil must hurry up and pass a package of new laws if the 2014 World Cup is to go ahead, FIFA secretary general Jerome Valcke told the country's Congress on Tuesday, adding there was "not a day to lose."
"Either we do (the Cup) together or we will never manage it" said Valcke, pointing out that Brazil had first been asked to pass the legislation in 2007 when it was awarded the right to host the tournament.
Brazil's Congress must agree to implement a number of special rules in the so-called World Cup law, covering matters ranging from the price of tickets to penalties for selling pirate merchandise and the sale of alcohol in stadiums.
Some of these over-ride local laws, which have stirred up nationalistic sentiment in a country intensely proud of its soccer tradition and its recent economic progress.
Some Congressmen have already dug in their heels, threatening to delay the bill's approval and adding to concerns over Brazil's lagging preparations for the global showpiece.
Former Brazil striker Romario, himself now a Congressman, is one of the most outspoken critics, saying the law would trample on the country's sovereignty.
Valcke said Brazil was aware of FIFA's conditions when it signed up to host the tournament and said similar requirements were made of recent hosts including Germany in 2006 and South Africa in 2010.
"We haven't changed a word of what was accepted and what was asked for by FIFA in 2007 so that Brazil would host this World Cup," Valcke told a parliamentary commission scrutinising the 40-page draft law before it is put to a plenary vote.
In one concession to Brazil's concerns, Valcke said FIFA would offer a limited number of cut-price tickets for around 25 dollars each after President Dilma Rousseff told him that Brazil would not scrap half-price ticket rights for pensioners. Those tickets would make up about 10% of the total.