Peruvian president at China trade forum: "we sell oranges and they send us marmalade"
Tuesday, November 22nd 2011 - 03:54 UTC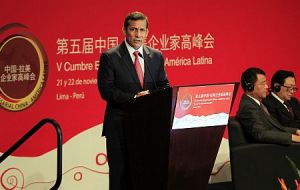 Peruvian President Ollanta Humala emphasized on Monday the importance of trade and investment relations with China, both for Peru and the region during the opening in Lima of the two-day 5th China-Latin America Business Summit
"We have talked about trade and this is important, because today China is Peru's main trading partner, but we have to improve exchange terms. We need for there to be peace at the workplace and respect for the laws of each country" Humala said in his opening remarks.
The Peruvian president underlined the urgent need for Peru and the region to change their economic production emphasis which is currently solely focused on the export of raw materials.
"We sell oranges and they send us back orange marmalade. That needs to change" he said.
"It's important that we export software, intelligence, talent, our professionals' expertise, which is our real main renewable resource and which we must develop. It is important that we explore all that brings added value to our trade with China" added Humala who also addressed cultural and academic exchanges.
"It's important, in the medium and long term, to greatly expand the use of Mandarin in Latin America and Spanish in China. There has been talk of friendship, and getting to know each other is necessary for friendship, but so is the language with which to communicate" underlined Humala.
Over 400 Chinese businesspeople and officials plus 600 from Latin America are attending the summit in Lima. Hua Jianmin, China's Vice-President of the Standing Committee of the National People's Congress as head of the visiting delegation spoke for the Asian visitors.
The event is sponsored by the China Council for the Promotion of International Trade and the Peruvian Foreign Ministry.
Harry Chang, director of the Peruvian private investment promotion agency ProInversion, said that the business forum represents a "major opportunity" for Peruvian companies to position themselves as attractive business partners for China.
"It's a major opportunity for Peru to show its qualities as one of the emerging countries with the largest projection in the region and its commercial integration process in an increasingly globalized world," Chang said.
"The Peruvian economy grew 8.98% in 2010; it has seen more than 10 years' average growth of 6%, low inflation between 2 and 3%, a stable exchange rate and foreign currency reserves of 49 billion US dollars," he said.
With 13 free trade agreements, and five more expected to take effect soon and another five currently being negotiated, Peru has achieved the much desired "investment grade" qualification by international rating agencies.
The business executive also noted that China and Peru signed an agreement on promotion and mutual investment protection in 1994, and a memorandum of understanding on trade and economic relations in 2007.
According to some estimates current Chinese investments in Peru totals an estimated 2.2 billion dollars, with most capital invested in the mining, hydrocarbon and fishing sectors.
Chang added that the Peruvian government will present plans for concession projects involving 7 billion dollars in areas such as airport infrastructure, tourism, petrochemicals, electric rail systems, oil pipe lines and electricity transmission.